Conclusion of Fray Ramón Rojas High School Solar Pump Project – Peru
This project has been completed under the direction of Peace Corps Volunteer Allison Schuster.
To read about the beginning of the project, CLICK HERE.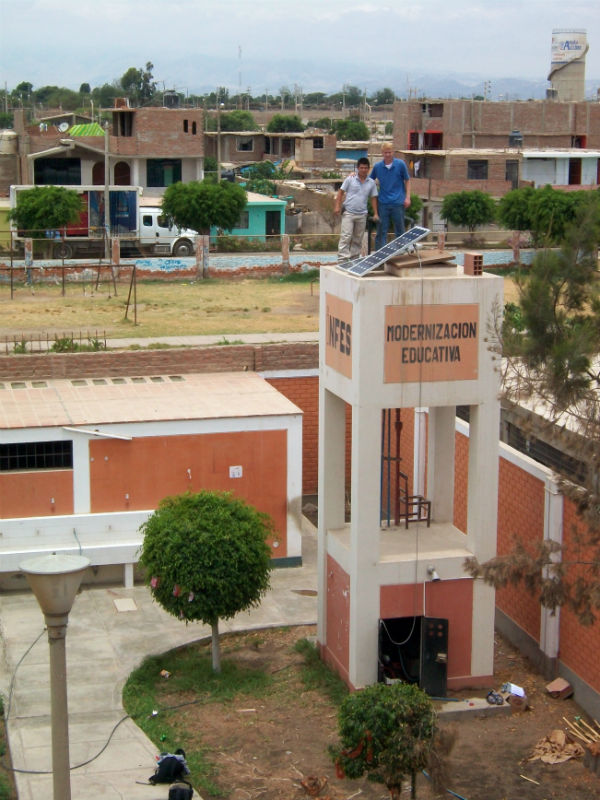 The project was to purchase and install a solar water pump to transport water from the source to the bathroom and handwashing stations at the school.
Allison reports:
I picked up the Water Charity funds last Thursday and today a pump was successfully installed at the Fray Ramón Rojas high school. Our Renewable Energy Third Year Volunteer, Patrick Barnosky, and an engineer PCV, Jennifer O'Neil, were also present for the installation.

We worked with a local engineering company QEnergy to size and install the pump. One of the pictures shows me in front of the pump room. Two photos show Patrick on the water tank with Luis of QEnergy. The final one is of Luis installing the pump.

Since it is currently summer vacation, students were not present for the installation, but when classes resume, there will be continued educational activities about the solar energy and the pump system. There will also be regular monitoring visits (weekly basis) to make sure that it continues to function properly.
We applaud Allison for her rapid completion of this important project, and again wish to thank Michael Miller and Allison's other friends and family for providing the funding.