Conclusion of Earthquake Relief & Water Filter Project – Nepal
This project has been completed under the partnership of Water Charity and the National Peace Corps Association, in association with our friends Wine To Water.
To read about the beginning of the project, CLICK HERE.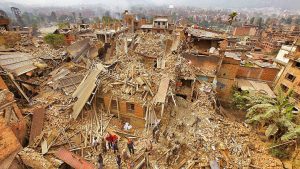 In response to the earthquakes that devastated Nepal in April and May 2015, Water Charity and Wine To Water have partnered to support the people affected by these events with clean water. Sawyer filters and water holding buckets were procured to enable victims of the destruction to have access to clean water.
The need and urgency of this relief cannot be overstated. More than 3 million people in Nepal lack access to clean water and sanitation due to infrastructure and homes being completely destroyed throughout much of the country. So, in addition to dealing with the magnitude of the destruction of the earthquake, and the pending monsoon season in a couple of weeks which will make living conditions much worse for many, the lack of clean water will compound these problems with an increase in water-borne illnesses.
In an effort to make the highest impact possible, water filters were distributed to the following territories within Kathmandu Valley. Upon the original site assessment of each territory, a local community leader was chosen and trained on program management. This step has proven to be very helpful as these community leaders have ensured the proper care and use of the filter over the weeks following the distribution.
Wine To Water's CEO, David Cuthbert, joined the ground team to do site visits and assessments on these locations and are pleased to report nearly 100% adoption of the use of the filters in the field. It is clear and extremely evident that they are greatly appreciated by the recipients and highly helpful during this difficult time.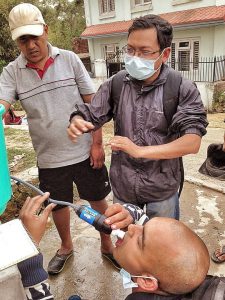 Location 1: Kavreshtali, Ward 5 and Phutung District
In this rural area 3.5 KM north of Kathmandu, 110 filters were distributed thus far. Many more filters are needed to cover more of the population but over 2500 people are using the filters within these areas. The community leader, Nirmal Lama, is overseeing the maintenance and use of the filters by the population. In this area, 275 homes were totally or partially destroyed of the 490 that existed there.
Location 2: Sangla Club, Ward 3
In Sangla Club, 60 Sawyer filters were distributed for the benefit of 1,200 people who live here. The earthquake nearly leveled every home in this area as 240 were totally destroyed of the 268 that once covered the area. People are now living in tents or temporary shelters in this area. Community leader Saraswati Joshi is overseeing the local filter operation.
Location 3: Darmashtali
In Darmashtali, 35 filters have been set up in community hubs and are being used by 1,200 people. Springwater has been contaminated due to the earthquake's destruction but is still accessible in the community. Filters are being used at these stations to clean water for drinking, bathing, and food preparation. Filter maintenance and management are being done by two young leaders, Ajit Shahi and Shyam Dongol.
Darmashtali, a village rich in Nepali heritage, culture, and community, has seen 90% of its homes destroyed and personal items totally lost. In many ways, they are starting over. As we visited the community on June 4th, 2015, it was evident that the entire community was coming together as best as possible to build temporary shelters in advance of the monsoon season in June. The town is made up of many tradespeople and skilled labor workers.
Although some progress has been made and the water situation has improved, food shortages were obviously still a very large issue. In visiting one of the houses this week, David witnessed a woman cleaning mud off of scattered rice that was buried under the rubble of what was once her home.
The partnership between Water Charity and Wine To Water has directly contributed to provide clean water for thousands of folks in desperate need throughout Nepal.
We would like to thank David Cuthbert and Kyle Lomax once again for their work on this much-needed project.
This project falls under our ongoing Filters For Life Program – Worldwide.
While the work in Nepal has moved from disaster relief to development, there is still a tremendous need for clean water. We will continue this successful project as long as we receive funds to pay for the installation of filters in areas that were hit by the earthquake.