Earthquake Relief & Water Filter Project – Nepal
This project is made possible through the partnership of WATER CHARITY and the NATIONAL PEACE CORPS ASSOCIATION.

After the devastating 7.8 magnitude earthquake that hit Nepal, Water Charity immediately began to try and find ways to help. Potable water is always a valuable and important commodity after a disaster, so we decided to jump in and send high quality, effective water filters to aid in the relief effort. Using Sawyer filters, which comprise the backbone of our Filters For Life Program, we joined together with a few of our friends to send 1,000 filters to be installed in refugee camps, hospitals, community centers and schools around the hardest-hit areas.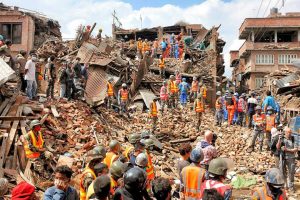 Working together with our friends, fellow non-profit Wine2Water, installation of these filters began immediately in the days after the first earthquake and will provide clean drinking water for as many as a hundred thousand people. We hope that with all the problems the Nepalese refugees have to deal with, that safe, clean drinking water will cease to be one of them.
The earthquake that hit on the 25th of April, and a second major tremor on May 12th, killed more than 8,600 people and brought down buildings in Kathmandu and the country's central districts. More than 8,000 people died in the disaster and many remain homeless. This disaster is said to affect over 8 million people in the region of Kathmandu.
This project falls under our ongoing Filters For Life Program – Worldwide, in which we are trying to make sure these high-quality Sawyer filters make their way into as many hands as humanly possible. While not as flashy as drilling wells, water filters are probably the single most effective way to prevent death and unnecessary suffering due to unpotable drinking water (the leading cause of preventable death worldwide).
In disaster situations, having access to clean, potable drinking water is generally the first priority. Long before the food runs out, thirsty people are forced to scavenge for a source of water, which will generally prove unhealthy and waterborne illnesses are known to run rampant in refugee camps where proper filtration, or at least some little bit of bleach, is not being used to clean the water.
---
Water Charity, in concert with the NPCA, paid for this project out of pocket and is asking donors to contribute to this effort by helping us recoup the funds we have already spent, enabling us to expand the relief effort. All money raised in excess of the current cost of the project will go to further relief efforts in Nepal.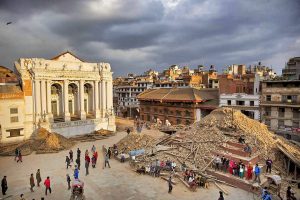 Fundraising Goal
$6,500

This project has been completed. To see the results, CLICK HERE.
While the work in Nepal has moved from disaster relief to development, there is still a tremendous need for clean water. We would like to continue this successful project and ramp up filter installations in the affected regions of Nepal. Please consider donating to this effort to allow us to implement a Phase 2 and help even more people.
---
Water Charity is proud to be among the first groups to get tangible help on the ground in emergencies like this one, and the typhoon Haiyan earlier where we engaged in a similar series of projects to help survivors.