Faraba Women's Garden Well Improvement Project – Senegal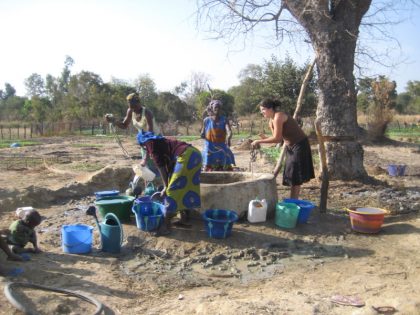 Location
Faraba, Saraya district, Kedougou region, Senegal
Community Description
Faraba is a Malinke village with a population of approximately 250 people.
The main economic activity in this village is agriculture, with staple crops such as peanuts, rice, and millet being grown mostly for consumption, and cotton being grown for sale. Vegetables grown in personal gardens and in the women's group garden are both consumed by households and sold at the local market in Saraya, a town approximately 8 kilometers from Faraba.
This project will be targeted towards increasing the vegetable production capacity of the women's group garden. The two women's groups in Faraba have a shared garden space in which approximately 30 members work.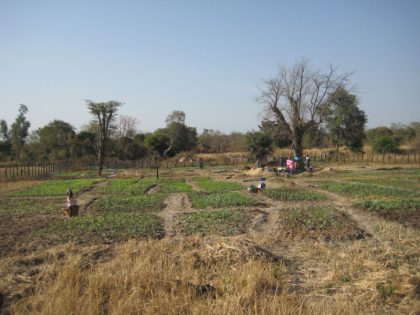 Project Description
This project is to fabricate a rope pump for the well at the women's garden. This includes fabricating a cement well cover, commissioning and mounting a metal hand pump, and installing a rope pulley system.
The Peace Corps Volunteer will construct the well pump as part of an ongoing project to encourage discussion surrounding gender roles and to create opportunities for women to engage in work that lies outside traditional roles (in this case construction).
The local branch of AfriCare, a non-profit that facilitates development in African communities, will be building two basins that will act as a water storage and irrigation system.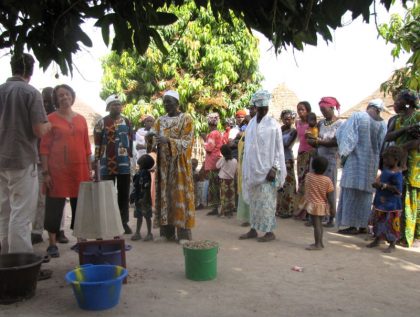 Project Impact
The 30 members of the women's garden will directly benefit from the project. The remaining 220 people of the village will indirectly benefit from the increased availability of food and income that this project will generate.
Peace Corps Volunteer Directing Project
Yasmin Fazelinia
Comments
A very small amount of money will make a big difference in the lives of the villagers, due to the increased production that will result. There will be improved nutrition, with the resultant health benefits. The women will spend less time pulling water for the garden so they will be able to increase the time spent on other tasks. Finally, the financial and educational aspects of the project will empower the women to undertake additional projects.
Dollar Amount of Project
$90.00
Donations Collected to Date
$90.00
Dollar Amount Needed
Dollar Amount Needed
$0.00 – This project has been fully funded, through the generosity of Evelyn Ebert, of Columbus, OH, USA.
We encourage others to continue to donate using the Donate button below, and we will notify Peace Corps Volunteer Yasmin Fazelinia of your donation. Additional funds will be used to fund the next project by Yasmin and/or those of other PCVs in the country.
This project has been finished. To read about the conclusion of the project, CLICK HERE.