Conclusion of Ewarton Community Centre Rainwater Catchment and Filtration System Project – Jamaica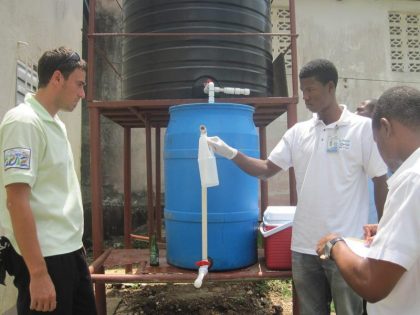 This project has been completed under the direction of Peace Corps Volunteer Mark Bryson.
To read about the beginning of the project, CLICK HERE.
The project was to set up a rainwater catchment and bio-sand filtration system for drinking water at the Ewarton Community Centre.
Mark reports:
This project has been completed with positive results.

After receiving the funds from Appropriate Projects and Friends of Jamaica in late December of 2011, work began almost immediately. Welding of the metal stand to house the pre-filter storage tank and bio-sand filter began in early January 2012 under the supervision of Mr. Arthur Thomas. Due to the availability of material, a slight adjustment from 2" galvanized piping to 2.5" was made with a minimal cost increase. The larger diameter piping was used for the vertical posts combined with cross-bracing made from recycled fence posts also located on the premises of the community center.

The 650-gallon pre-filter storage tank and bio-sand filter were installed on the stand and secured the same weekend. The following weekends the brackets for the PVC guttering were welded to the roof of the pavilion. Lastly, the PVC guttering was installed, in addition to connecting plumbing that tied the entire system together.

After approximately 6-8 weeks of developing the schmutzedecke, or biological layer, within the bio-sand filter, the effluent water was collected for quality testing by H2O Technical Services Ltd. The untreated water was deemed unsafe to drink due to the presence of a couple of biological contaminants. However, at their low levels, the water would be potable following simple chlorination. At this time, ECODAC is pursuing the utilization of a UV filter in combination with the bio-sand filter.

On World Water 2012, an awareness event was held whereby fifteen persons were educated on bio-sand filtration, SODIS, and water conservation. In an effort to be walking advertisements for the project and environmental sustainability, ECODAC utilized project polos made from 100% recycled plastic bottles. While creating awareness for the project, which re-uses water, we also showcased the possibilities of re-using plastic.

ECODAC was proudly awarded the Jamaica Environmental Action Award for 2012 from the Jamaica Environment Trust on June 27 for its work. In the coming year, increased awareness and completion of the project is planned, in addition to a collaboration with HydrAid, the foremost producer of plastic bio-sand filters.
We are grateful to Mark for completing this project, and again wish to thank Kathryn Smith for providing the funding.