Conclusion of Escuela Oficial Rural Mixta Triunfo La Paz Handwashing Station – Guatemala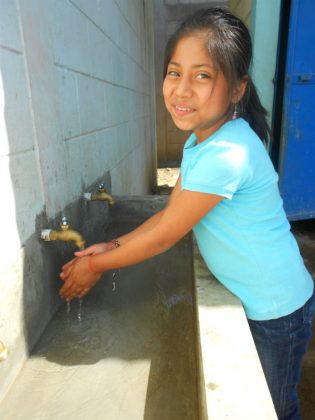 This project has been completed under the direction of Peace Corps Volunteer Grace Williams. To read about the beginning of the project, CLICK HERE.
The project was to construct a handwashing station at the school.
Grace reports:
Upon receiving approval for funding of this project, I met with Odilia Carolina Dionisio Cua, the principal of Triunfo La Paz and Carlos Bartolome Chavajay Yac, a local carpenter who is also a father to three young students who currently are enrolled at Triunfo La Paz. Carlos and his eldest son were responsible for the manual labor of the project and advised Odilia and me regarding our budget and material needs. Together we decided on a plan to execute the project so it would be completed in time for the students to begin the new school year.

Odilia, Carlos, and I went to 3 different hardware stores, where we found all of the materials we needed that fit our budget. The owner of one of the hardware stores agreed to drive the materials to the school for us, which was a blessing because the three of us did not own a vehicle.

The project was started and completed within 6 week days. Carlos was very dedicated to the project because he understood the importance of running water at the school. As a father, he wants what is best for his children and his community. Paquip is a fairly new community, recently formed within Santa Clara La Laguna, and the community members are dedicated to their future.

We organized a small meeting the first week of school in which the parents, teachers, and community members had the opportunity to come to school and check out the new handwashing station. I spoke to them about the importance of sustainability, and the need to care for and maintain the station.

One of the male teachers agreed to form a 'project' committee in which members promised to care for the project and prioritize future funds appropriately. In that way, if the need arises in the future for a new faucet or pipe, the repairs will be done right away.

The parents of the students and teachers alike were so very grateful to have received the support of Water Charity. They feel this project will better the lives of not only their children but of their children's children as well. As I spoke with several of these people, the word used most to describe this project is 'blessing.' We are all very grateful.
We wish to thank Grace for completing this project, and again extend our gratitude to The Soneva SLOW LIFE Trust for providing the funding.