Escuela Oficial Rural Mixta Triunfo La Paz Handwashing Station Project – Guatemala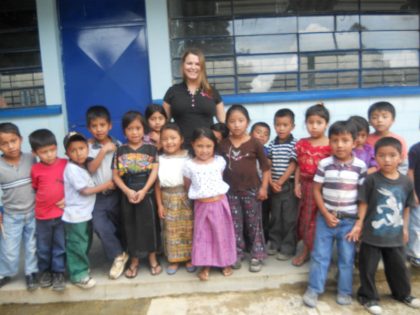 Location
Paquip (outside of Santa Clara La Laguna), Sololá, Guatemala
Community Description
Paquip is a new community, recently independent of Santa Clara La Laguna.
There are about 500 residents.
Men generally work as carpenters and women work in their homes. Many husbands and fathers are working in the United States. The community is extremely poor, living and working in harsh, basic conditions in the home and in their schools.
Escuela Oficial Rural Mixta Triunfo La Paz has 104 students, ranging from 4 to 16 years old, in grades K through 6. There are seven teachers.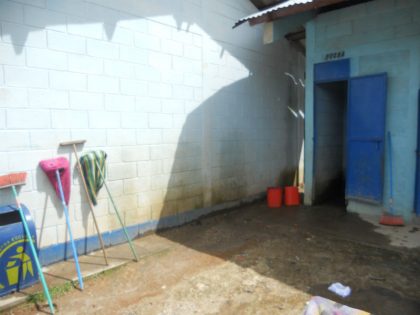 Presently, there is only one faucet at the school, making it extremely difficult for the students to wash their hands and brush their teeth.
Project Description
This project is to construct a handwashing station at the school. The station will have 10 faucets, allowing for the expected growth of the community.
The water will be piped to the station from a pila, which is a sink that holds water. There is also a tank at the school. This will ensure water supply even throughout the dry season.
The carpenter will construct the cement sink and 10 faucets. He will also be responsible for connecting the water to the new location, which will be right by the bathrooms. This will ensure the children leave the bathroom and have their handwashing station accessible.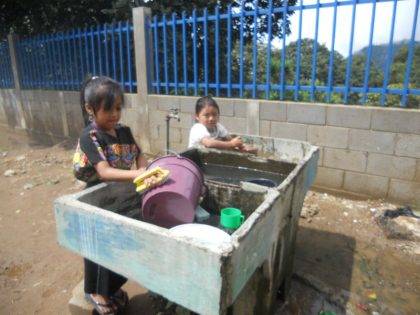 The school will seek certification under the Healthy Schools program, a partnership between Peace Corps and the government. This project will put them into compliance with the requirements for adequate facilities for washing hands before eating and after going to the bathroom and brushing teeth after eating snacks.
The principal of the school is a very intelligent young woman who is on board with the program and she is leading her team of teachers in the implementation of the project.
Project Impact
111 people will benefit from the project.
Peace Corps Volunteer Directing Project
Grace Williams
Comments
This project will bring about bring sustainable water infrastructure to the school. Under the Healthy Schools program, healthy habits and hygiene will be promoted, and daily routines and practices will be implemented to ensure better health and better lives in general for the students and the teachers.
Grace previously completed the La Rancheria Handwashing Station Project – Guatemala.
Dollar Amount of Project
$500.00
Donations Collected to Date
$500.00
Dollar Amount Needed
$0.00 – This project has now been fully funded through the generosity of The Soneva SLOW LIFE Trust as a part of their Clean Water Projects initiative.
We encourage others to continue to donate using the Donate button below, and we will notify Peace Corps Volunteer ace Williams of your donation. Additional funds will be used to fund the next project by Grace and/or those of other PCVs in the country of service.
This project has been finished. To read about the conclusion of the project, CLICK HERE.