Conclusion of Escuela Adelante Water and Sanitation Project – Nicaragua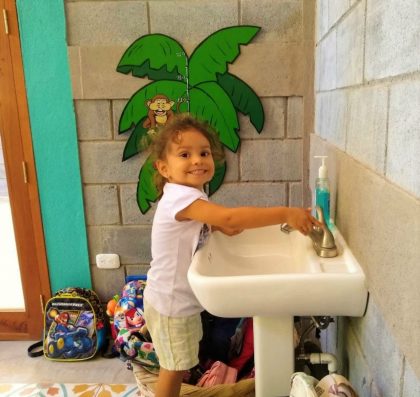 This project in Nicaragua has been completed under the direction of Returned Peace Corps Volunteer Jenny Boyd. To read about the start of the project,
CLICK HERE
.
The project was designed to build the water and sanitation systems for the school. This included the plumbing system, a septic tank, two bathrooms with child-sized toilets, and classroom sinks.
Jenny reports:
Escuela Adelante has completed the construction of its new school building, and thanks to Water Charity's contribution, it includes a high-quality septic system, two bathrooms with standard and toddler-sized flushing toilets, ample bathroom sinks, and a sink in each of the 4 classrooms. Over 250 students currently attend Escuela Adelante, and the school continues to expand its programming every year.

Students learn to wash their hands before lunch and brush their teeth after eating. This way, the water and sanitation system helps to impart healthy lifestyle habits, in addition to the obvious sanitation benefits of well-functioning toilets and sinks.

At the new campus, Escuela Adelante has the space to incorporate gardening into its curriculum. Students irrigate vegetables in the learning gardens, which will be used in meal preparation. Our next project will be to build a kitchen and cafeteria, with adequate space and facilities to cook nutritious lunches for Escuela Adelante's growing student body.

Escuela Adelante is a non-profit school, providing an unprecedented quality of bilingual education to the children of San Juan del Sur, Nicaragua. The school operates on an extremely lean budget and took on an ambitious goal in building a new campus to serve more students. We are all extremely grateful to Water Charity and the National Peace Corps Association for helping us reach that goal.
We extend our thanks to Jenny for completing this important project.