EORM Tululché Handwashing Station Project – Guatemala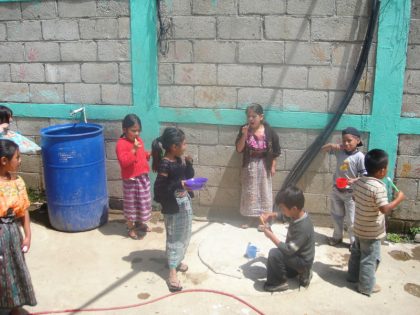 Location
Aldea Tululché, Zaragoza, Chimaltenango, Guatemala
Community Description
Aldea Tululché is a small Mayan community of around 1,000 people, located on the Interamerican Highway. The community is very poor, and most of the men are farmers.
The village is located about 1.5 hours from the capital, Guatemala City, about five minutes from the town of Zaragoza, the district capital, and about 20 minutes from Chimaltenango, the capital of the department.
Most of the houses in the community only receive water every couple of days, and residents have said that the water they receive is usually not enough to use to bathe and wash their dishes and clothes.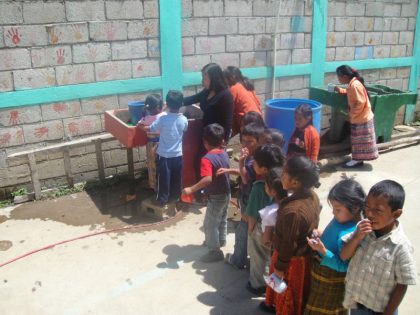 The school, EORM Tululché, currently has 121 students. It has a recently-dug well that provides water, and a water tank, located on the roof, that fills automatically.
Project Description
This project is to construct a handwashing station at the school. Water will be available to the students for drinking, brushing teeth, and washing hands.
The station, which will have 8 faucets, will be built along a wall on the first story of the school, adjacent to the well. Water will be piped from the well to the station. Drainage tubes will be connected to a drainage system that is already in place that is about 3 meters away.
Only basic building supplies, such as cement, gravel, rebar, sand, and faucets, will be needed for the project.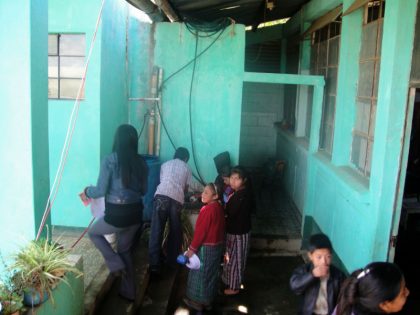 Two masons from the NGO Agua Para la Salud will be in charge of the project. They have experience in this type of project and will complete it in one weekend. These masons will also be able to fix some problems that have arisen with the well and some other broken tubes.
The funds from Appropriate Projects will be used to buy most of the materials and to pay the masons. The community will contribute the unskilled labor and some materials that are available in the community.
Project Impact
121 students that currently attend the school will benefit from the project. The student population is expected to grow to about 200 students in the next few years.
The entire community of 1,000 people will indirectly benefit from the project.
Peace Corps Volunteer Directing Project
Eric Hill-Tanquist
Comments
This is an important project that will allow the students to engage in healthy personal hygiene practices.
Dollar Amount of Project
$555.00
Donations Collected to Date
$555.00
Dollar Amount Needed
$0.00 – This project has been fully funded, through the generosity of The Soneva SLOW LIFE Trust as a part of their Clean Water Projects initiative, with help of friends and family of Peace Corps Volunteer Eric Hill-Tanquist.
We encourage others to continue to donate using the Donate button below, and we will notify Ericof your donation. Additional funds will be used to fund the next project by Eric and/or those other PCVs in the country of service.


This project has been finished. To read about the conclusion of the project, CLICK HERE.