Conclusion of EORM Las Colmenas Handwashing Station and Septic Tank Project – Guatemala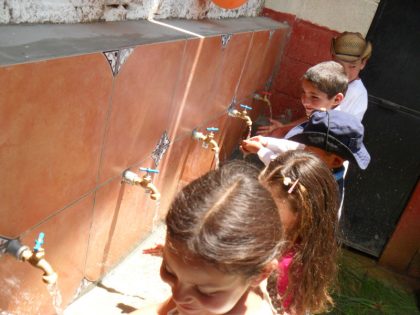 This project has been completed under the direction of Peace Corps Volunteer Carolyn Vopelak. To read about the beginning of the project, CLICK HERE.
The project was to build a sink and septic tank for the school.
Carolyn reports:
The construction of the handwashing station with 6 faucets and septic tank at EORM Las Colmenas has been completed. A mason from the neighboring village was hired to do the work, which he executed exceptionally.

The handwashing was built with cinder block, iron and cement and connected to water by the pipe that brings water to the bathrooms. The water comes from the community water system which comes from a spring.

The pipes in the interior were made with galvanized metal, which is strong and will not crack like PVC. Additionally the drain inside has screw tops that can be opened to clean out the drain and help maintain the plumbing.

The drain of the unit runs into a septic tank that was dug approximately 30 feet deep. The tank consists of gravel, sand, iron and cement and is of sufficient size to handle the expected water use of the student population.

Money from Water Charity was used to buy materials including cinder block, cement, iron bars, gravel, sand, galvanized pipes, faucets, PCV drainage pipes and to pay a skilled mason. The community also contributed money for labor and materials and fathers of the students assisted the mason.

The septic tank provides an environmentally friendly solution to the run off created from the handwashing station and will keep the school and surrounding area clean and will not affect topsoil erosion.

Now the children have a more appropriate space to practice hand washing and teeth brushing, and should the student population grow in the coming years the number of faucets will be sufficient.

Teachers will continue promoting hygiene in the school and working on health and nutrition education. The project has been a good experience for the school community and shows that the parents and teachers are willing to collaborate on future projects.
We wish to thank Carolyn for completing this project, and again extend our gratitude to The Soneva SLOW LIFE Trust for providing the funding.