Elderslie School Water Project, Phase 2
This project is the second phase of a planned project to rebuild the school water fountain to optimal functionality. In the prior project, which was completed successfully, the drainage system for the hand washing fountain for the Elderslie Primary & Junior High School was rebuilt. To read about it, CLICK HERE.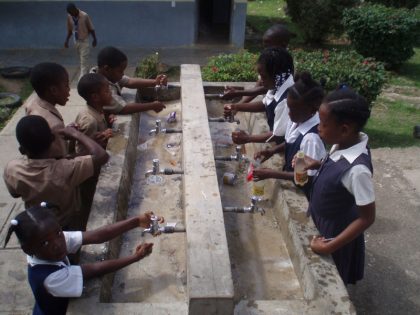 Location
Elderslie, St. Elizabeth, Jamaica
Community Description
Elderslie, Jamaica is a rural community in the western hills of Jamaica's Cockpit Country, about an hour and a half by car south of Montego Bay. You can read more about the community by going to the project
page for the prior project.
Project Description
This project is to rebuild the hand washing fountain structure and the water supply system at the primary and elementary school.
Currently, there is the deterioration of the existing structure, and leaks in the aging water supply piping, with a resultant waste of potable water.
The project will involve the jackhammering of the top section of concrete of the fountain basin, and the removal of the leaking galvanized pipe from the structure.
New piping and new fittings will be purchased and installed by a local plumber. A mason will then be contracted to reform the concrete structure around the newly installed pipe. Lastly, one of the eight valves will be replaced, as it is faulty and leaking.
Project Impact
The project will benefit 300 students and 23 staff members at the school, with the secondary impact of improved sanitary conditions among the whole community.
Peace Corps Volunteer Directing Project
Chris Robertson
Comments
This follow-up project demonstrates Water Charity's methodology of completing small planned projects in sequence, building upon the success of the prior phases. It ensures the access of a large number of students to clean drinking water.
Dollar Amount of Project
$241.71
Donations Collected to Date
$241.71
Dollar Amount Needed
$0.00 – This project has been fully funded, through the generosity of The Soneva SLOW LIFE Trust as a part of their Clean Water Projects initiative.
We encourage others to continue to donate using the Donate button below, and we will notify Peace Corps Volunteer Chris Robertson of your donation. Additional funds will be used to fund the next project by Chris and/or those of his counterpart PCVs in Jamaica.
This project has been finished. To read about the conclusion of the project, CLICK HERE.