Conclusion of El Llano PAIN Handwashing Station Project – Guatemala
This project has been completed under the direction of Peace Corps Volunteer Laura Zachary.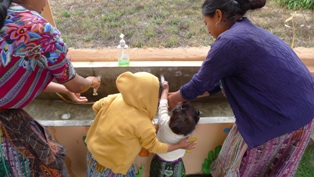 To read about the beginning of the project, CLICK HERE.
The project was to construct 2 wall handwashing stations at the school.
Laura reports:
I am happy to inform you that the water project with the Consejo de Padres de Familia de PAIN (Programa de Atención Integral) Caserio El Llano was successfully completed.

A local mason, Alberto Patal, assisted the Peace Corps Volunteer, teachers, and parent committee in the purchasing of materials and execution of the project the last week of February. The community raised $120 amongst the participating families to help buy materials and provide the necessary labor for the projects, which, together with Water Charity's contribution, was enough to complete the project.
The pre-school now has two 4-faucet wall handwashing stations for the children and parents to practice daily hygiene habits in order to prevent common illnesses and overall to improve their health and well-being.