Conclusion of South Sudan Well Rehab Phase 4 – Part 1
Part 1 of Phase 4 in the South Sudan Well Rehab Program
The first 5 wells of 20!
These 5 well repairs have been finished in the South Sudan Well Rehab Program Phase IV. Follow the link for an overview of the program. There are some videos at the bottom of the päge as well!
Water Charity's 20 South Sudan Relief Wells (with Conclusion Reports)
1. Logobero
Location
Logobero, Yei River State, South Sudan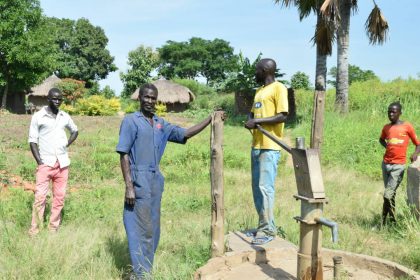 GPS- N 04*05.708E 30*41.283
Community Description
Logobero is located 3 miles from the city center of Yei. Across the road, just north of the community is the UN Mine Action Service (UNMAS). South of the community the Norwegian People's Aid (NPA) was once stationed. 100 households in Logobero use the borehole in this location.
Problem Addressed
Sam Amule is the Committee Chair of the borehole in the Logobero Community. As the Water is Basic Team came out to survey what needed to be repaired, he described how this well was used recently to serve not only the community but the NPA as well. Sam said that when the NPA began operating across the road, they needed a source of water to operate both their food security and agricultural sector. The NPA removed the pump head from the well and connected an electric submersible pump that required a generator. They put in taps for the community to use adjacent to the borehole. At that time the borehole served both the community and the NPA, but when conflict broke out in this area in 2017, the NPA had to pull out because of insecurity, and there was no longer any fuel to run the generator for the well.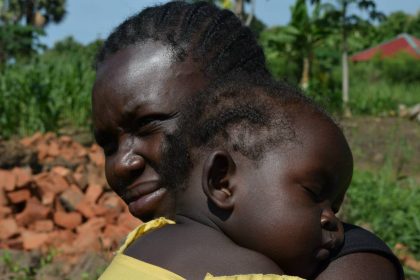 The Water is Basic team recently removed the electric submersible and added the hand pump so the community could again access water without a generator and fuel. Now, the GI pipes have rusted, and the water from the well is red and corroded.
Betty Dewan is the Treasurer of the Logobero borehole. As she held her sleeping baby, Helen, she described how they used to provide cups for people traveling through who needing a drink of water along the way. Fees were once collected as many from other communities used this borehole to fill their jerry cans. Most recently they have not collected fees because with inflation, so high, most cannot afford to pay. A World Food Program article from 2017 shared how people typically must spend 155% of their daily income for just a plate of stew. And inflation has only gotten worse.
Along with the GI pipes to replace, they will also need bricks, aggregate, and cement to repair the structure surrounding the borehole. This will take only one day.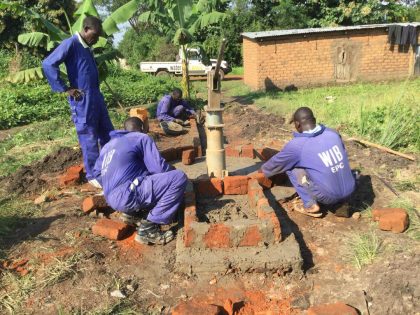 Project Impact
100 households are in the Logobero community. Many fled for security during the conflict, but Sam Amule says they are returning weekly. With 100 households served, and those journeying along the road through Logobero, that's an estimated 700-800 people that will benefit from the repair of this well.
Conclusion Report
The GI pipes were replaced as well as the structure surrounding the borehole. This project took 2 days to restore and will impact the 100 households (700-800 people) that live in the community and surrounding areas.

The well committee consists of three women and three men. Bakata Meta and Rose Akuto are both on the committee and were present when the well was reopened. Bakata reported they have chosen not to collect fees from the surrounding community at this point as everyone is still trying to resettle and care for basic needs with what little they have with the impossible economic situation. The community members are encouraged to pay what they are able at this point to maintain the borehole.

Rose Akuto is grateful that she now has access to clean, fresh water. She resorted to fetching water from the Yei River and rarely could afford the coal to boil the water to destroy the impurities. Her family will benefit significantly with improved health and time spent close to home.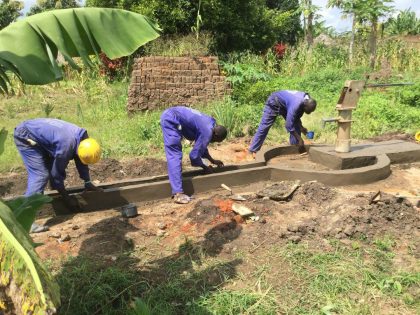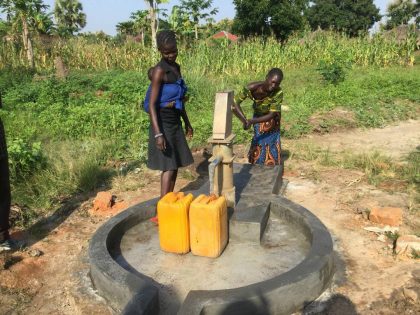 2. Lomuku 1a
Location
Lomuku 1a, Yei River State, South Sudan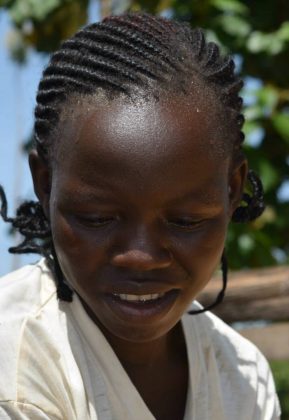 GPS- N 04*06.529 E 30*39.779
Problem Addressed
Jaqueline is a mother of 8 and is a member of the well committee at Lomuku 1A. Standing in the heat with her children, they demonstrate how it takes up to 15 minutes of pumping before water begins to come out of the well. If they stop for over three minutes, they must start the process all over by pumping for another 15 minutes before water comes out again. Each child takes a turn a turn at the pump to work to get the water to start flowing.
Joselyn Hayatt is a mother of six and is displaced from another community where she had to flee because of insecurity during the conflict. She and her family have made the Lomuku community their home for the past year. With 6 children, she often does not have the time to wait to pump for 15 minutes and wait in a long line before doing so. She said she often fills her jerry cans with water from the river to boil before using to cook or drink. But the cost of coal is difficult to keep up with given the current economic situation. Where once 100 US dollars would equal 300 SS Pounds, the same amount now equals 30,000 SS pounds.
Community member, Moses Taban travels on his bike 4 miles, two times a day to purchase charcoal from the bush to then bring into town to sell. This is the well he uses along the way to hydrate for his journey. If it's not in use, he does not have the time to wait 15 minutes to get water so he goes without, pays fees for water if he can afford it, or gets water from whatever source he can if he does not have the money. Moses's wife Mary Lovia with her child Sahia on her hip says that she often relies on her two younger children to help when they are not in school.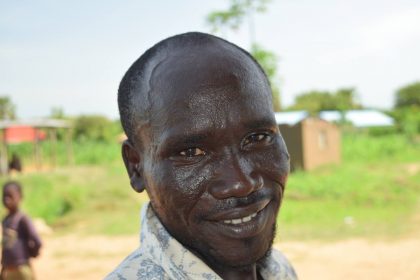 The team assessed that they would need to replace the GI pipes and rubber casings to repair the borehole.
Project Impact
This Community has 140 family heads. The well repaired will impact about 840 community members and 100 more that travel along the road as they go to school, market, and even some that are returning from IDP and refugee camps.
Conclusion Report
Mr. Joseph Khamis is the new chairperson of Lomuku 1a well. He joined the rebel movement in 2016, but after grassroots peace agreements in Yei took place, desired to go back home. He was not interested in joining the Government forces and was grateful to be released by the Government to go back home to his community.

He said many of the community members suffered because of divisions between rebel and government forces. There was fear on all sides, and many fled to seek security elsewhere. Joseph remained with his family, and while the well committee disbursed, he did what he could with other leaders in the community to maintain the borehole.

Now that the well is restored, Joseph is proud to bring on more leaders to oversee the well. He appreciated learning about what it means to maintain a borehole understanding that 50% of the team should be women as they are the ones who provide water for their families. They are looking to bring on a Secretary and a Treasurer as the plan to soon collect fees once again.

The repaired well brings a renewed sense of pride and ownership to the community leaders. About 840 community members and 100 more that travel along the road as they go to school, market, and even some that are returning from IDP and refugee camps will benefit from the clean, fresh water provided by Lomuku 1a well.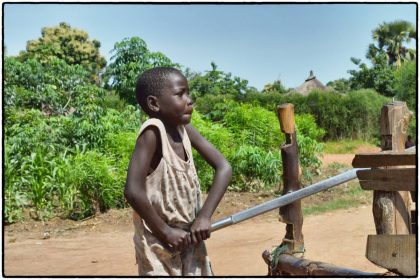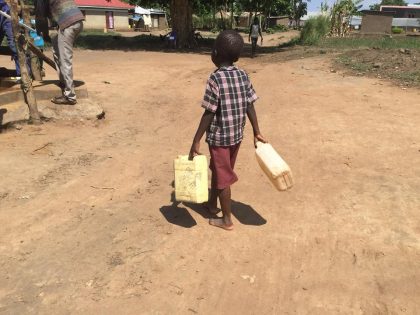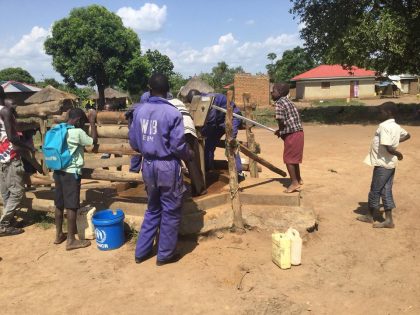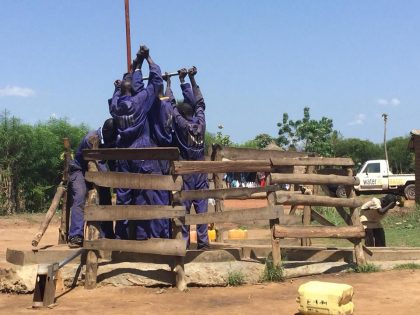 3. Lomuku 1b
Location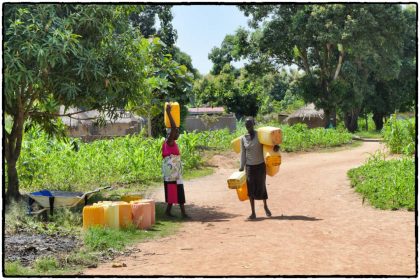 Lomuku 1b, Yei Town, Yei River County, Yei State, South Sudan
GPS- N 04*06.357 E 30*39.948
Problems Addressed
Simon Amule has been the Chairman of the Lomuku 1B borehole for five years. Currently, there are 9 people on the committee, five of which are women. Because water is typically a woman's job in South Sudan, this committee knows how important it is to have women as an integral part of the committee. Before the conflict-hit, only 50 family heads, used the well on a daily basis with hundreds more throughout the week using the well along their journey.
The SPLA-IO (Sudan People's Liberation Army In Opposition) is in control of the nearby community and their presence has forced thousands to flee to the bush to refugee camps or neighboring villages. Many from that community have resettled to Lomuku 1b.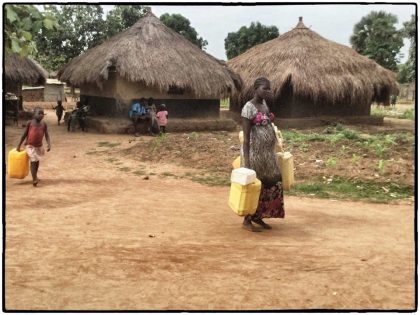 There is a new well down the street from Lomuku 1b that only fills up to two jerry cans a day. The well was put in by a contract organization that did not drill far enough into the earth to reach the water source. This community is also now using the well at Lomuku 1b as well.
Thirteen-year-old Betty is the first-born girl in her family. It is her job to fill the five jerry cans that are necessary to meet the needs of her family each day. She has had to miss a lot of school since the well at Lomuku 1b has become increasingly difficult to use. She said she must pump about 15 minutes before water begins to come out of the pipes. When it first comes out, it is red with rust and smells bad. But this is the best choice her family has for a source of water, so she waits patiently and sometimes misses studies as access to water comes before school attendance.
Project Impact
This well that once served 150 now serves up to 2000. With the high demand for water in this location and increased usage of the well, repairs are inevitable. Once repaired, families will not have to choose water over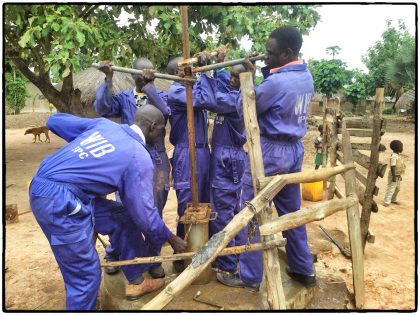 education or work. They will have clean water and space to do more than just meet their basic needs.
Conclusion Report
The rusted and worn rods, metal bearings and rubber casings were replaced and took only 2 hours to repair. This community of over 300 will experience immediate relief with access to clean, fresh drinking water. The well also services neighboring community members and those traveling along the road to the market. An estimated 2000 will gain access to clean water with this repair.

Betty and other students who had to struggle to spend their days fetching water or waiting for the corroded water to pump will now have the time to attend school. Their health and lives are improved immediately as a result of this repair.

The women at the well were especially pleased when the Lomuku 1b once again pumped clean, fresh water. Mary Kane said that she will have more time to sell her vegetables in the marketplace and her children will have better health.
4. Yei Vocational Training College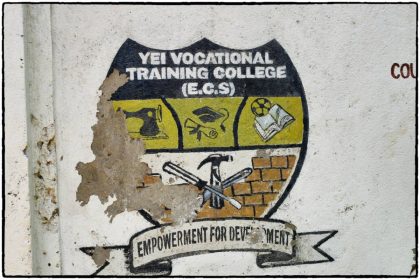 Location
Yei Vocational Training College, Yei River State, South Sudan
GPS- N 04*05.587 E 30*39.986
Community Description
Yei Vocational Training College is located across the street from ECS and S (Emmanuel Christian South Sudan and Sudan Church). The borehole on the campus serves the 460 students in attendance as well as the teachers, the church across the street and the surrounding community. An estimated 1500 use this borehole on a regular basis.
Problem Addressed
The well on the grounds of the college is in need of a complete restoration. The GI pipes are rusted, and the structure around the borehole needs to be replaced. The water from the well is contaminated due to corroded GI pipes and a large crack in the base of the foundation that allows dirty runoff water to mix with the water that is pumped.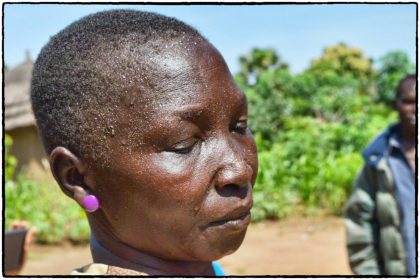 Alor Richard is the Deputy Head Teacher at the College. When the Water is Basic team met with him, the students were on break and those that were attempting to fetch water at the well on that day were from the community. The recent conflict in Yei forced many students to leave their studies to either seek refuge in another area or to assist with the basic needs of their families, all of which are stretched with limited resources to get by in a struggling economy. The 460 students that are currently enrolled in classes all use this well on days they attend and often will fill jerry cans to bring home to their families.
The PTA Chairman, Alfred lives next to the college and uses this well as the primary source of water for his family. He is a member of the well committee and said they no longer collect fees from community members needing access to the well. So many do not have the money to pay and will often give what they can to go towards the cost of well upkeep and repairs. Now that the well is broken, these community members choose to either access this water that is spoiled or seek water from a neighboring community or water dirty water source.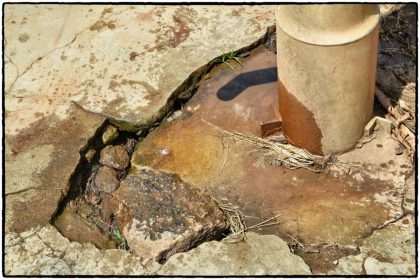 Lona, a student at the college, was at the well as it was surveyed. She shared how she is the first born in her family, and while she has the opportunity to attend school, Lona also must work in the time to collect water for her family. This was easy with access to water right there on campus, but now it is much more difficult as she can't get water on her way to school or home from school. Her days start much earlier and end much later with water responsibilities being the first and last part of her day. This leaves less time for her studies. Lona is studying science and aspires to be a nurse. Access to clean water will give her the space to reach her goal.
Project Impact
Lona's story is not unique. Each student at the college has a dream to make a difference in this world. Each student also has basic needs to be met. With this borehole restored, they will have more time to focus on their studies and will be better hydrated during the school week improving their academic performance.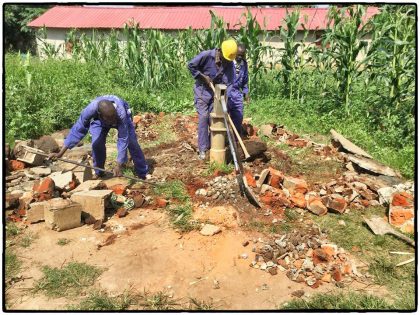 This project will reach an estimated 1500 people in the school, church and surrounding community.
Conclusion Report
The restored well at Yei vocational Training College serves the 460 students, the teachers, and the surrounding community. It is estimated that 1500 people use this well each week.

The students and faculty are proud of the well on the school grounds and will do their part to maintain the well and the surrounding area along with the well committee to ensure that it continues to meet their needs.

Students not only have access to water during the school day, but most students and teachers carry a jerry can of water home with them at the end of the school day to help meet the needs of their family.

Access to water directly affects learning. A well-hydrated student can concentrate during the day, is healthier, attendance is higher, and overall, their quality of life is better. Clean water is basic, but it leads to so much more.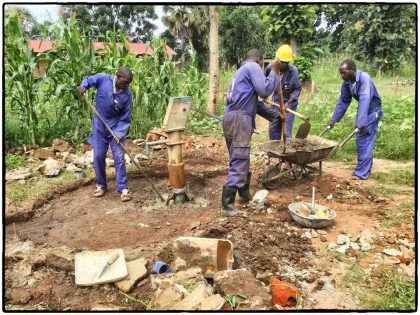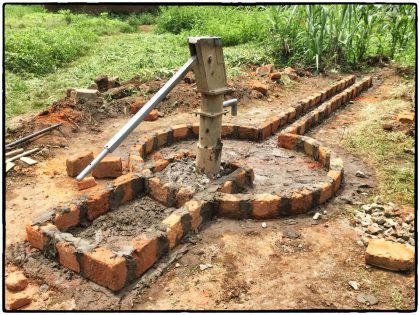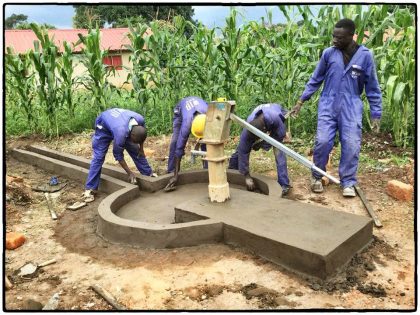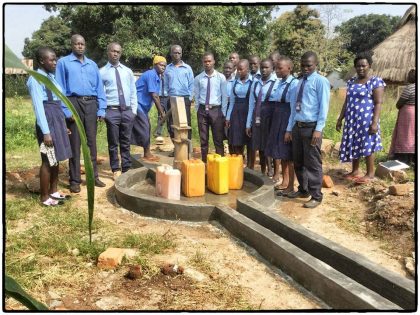 5. Hai Mission
Location
Hai Mission, Yei River State, South Sudan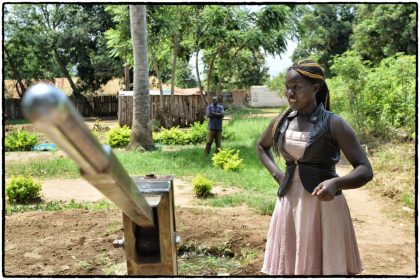 GPS- N 04* 05.622 E 30* 30.903
Community Description
Next to the borehole in this community is the UMCOR (United Methodist Committee on Relief) Registration office. Here they register IDPs (Internally Displaced Persons) and several families to relocate to this community.
Problem Addressed
18-year-old Clara is a community member of Hai Mission. She spends much of her day every day at this well working to get water. Clara said you have to pump the hand pump at this well for 30 minutes before water begins to flow. If you stop pumping, the process must start all over again. When asked what she would do if she did not have to spend her days waiting for water, Clara said she would like to make jewelry to earn an income.
Many people in this community are here because they have been internally displaced when fighting occurred in their home communities. While they are trying to make a new start, most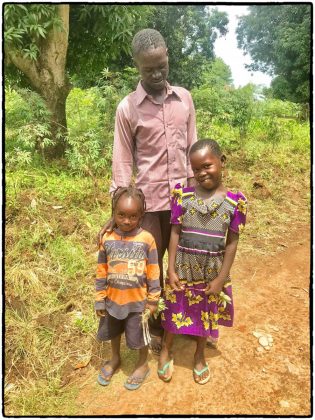 of them do not have the means to pay fees and can use this well free of charge. But now that it is in need of repair, they do not have the time it takes to wait for water and must either use what earnings they have for water fees at neighboring boreholes or get water from a dirty water source.
The puddle at the end of the borehole structure is stagnant and a breeding ground for mosquitoes. It was created to collect runoff water for animals and watering plants. But with little to no water flow, the water collected there is no longer used and is contaminated.
James Alfred, the chairman of the well committee, said that most members of the original well committee no longer live in the area. Many fled to Uganda when the crisis hit Yei one year ago. Now that peace is returning, people are returning as well. James looks forward to rebuilding his committee, and their first priority is to clean the water collection source at the end of the borehole. He is proud of his community and is ready to retake pride in his borehole.
Project Impact
An estimated 2000 people will benefit from this well restoration project. IDPs, community members, and UMCOR staff will once again utilize this well. It will also provide relief for displaced families who have been struggling to relocate and make their way to register at the UMCOR office.
Conclusion Report
**Our US team was there to be part of this well restoration project and interviewed Clara before the well was repaired, and Sida and James the day it was restored. Therefore we have 3 different stories we have used on our blog for this well. I'm including those here.

Sida- "A pilot!" That's what Sida exclaimed without hesitation when asked what she'd like to be one day. One has to wonder what Sida's baby sister, Betty, (strapped to Sida's back) will dream to be.

Ask any child around the world what they want to be when they grow up, and most will light up as they shout out similar answers: Doctor! Teacher! Singer! Pilot!

The dreams of children in South Sudan are no different, but they are harder to attain than most.

The first-born in her family, Sida's responsibility is to fetch water each day. It takes five jerry cans a day to meet the needs of her family. A full jerry can weighs an average of 42 pounds.

When asked how she manages to carry five jerry cans on her own, she said she carries two jerry cans 5 steps, puts them down, goes back to bring two more, and then returns for the 5th jerry can. Five steps at-a-time, over-and-over, every day. This was her routine for over a mile each day as she passed the broken well in her village to reach the closest working well.

Just across the street is Yei Vocational Training School. When there is access to clean water in her village, Sida has time to do her daily chores and attend school. A broken well in her village means there is no time for school for Sida.

Because of collaborative efforts between donors and a hard-working local water team, the well in Sida's community has been restored. Clean water is more than basic. It creates opportunities for children like Sida, and one day, even Betty, to receive an education and realizing their dreams.

James- James, the chairman of the borehole in his community, was one of the few who stayed with his family when conflict hit last year. He was thrilled when the well technicians came to repair the well and stood by offering to help when needed. Two of his children have recently recovered from malaria. This stagnant pool that water slowly trickled into was breeding ground for mosquitoes. With the hope of a restored well, he worked to clean the dirty water to make way for the new structure. Clean water AND fewer mosquitoes mean healthier children!

An estimated 2000 people will benefit from this well restoration project. IDPs, community members, and UMCOR staff will once again utilize this well. It will also provide relief for displaced families who have been struggling to relocate and make their way to register at the UMCOR office.