South Sudan Well Rehab Program
Program Overview
Water Charity, Water Is Basic and the National Peace Corps Association are pleased to present this comprehensive program designed to help the people of South Sudan by rebuilding and restoring wells in this war-torn land. The program has been so successful that we have gone on to do 5 sets of projects we call PHASES so far, with many people helped in 65 villages. Quite a few of these people were refugees and internally displaced people. Read about the various projects below this video, and check out updates and conclusion reports via links to other pages on this effort. We appreciate your support!
The program began with the ten wells you will find listed below as PHASE 1 in the Tore region. We were actually able to repair 13 wells in this first phase. After seeing the dramatic effect and unprecedented efficiency of this work, we did 10 more wells as PHASE 2 of this endeavor in the neighboring region of Yei (more info #2nd Phase). Upon completion of those, we wound up doing 5 more wells in PHASE 3 (scroll down or click here: #3rd Phase). Since then, we have been really gung ho, and have completed another raft of 20 wells as PHASE 4 (#4th Phase), and are currently underway with another 16 villages for our PHASE 5 (#5th Phase). In addition to all the info on this extensive program page, there are dedicated pages for all of these Phases, and even quite a few update pages. The links to these pages can be found at the very bottom of this page.
We have also completed a stand-alone water filter distribution project that is an adjunct to this ongoing program and all of its phases. You can read about that here: Water Filters For South Sudan – Program.
All of these projects are done with local labor, using a team of South Sudanese well repair experts who go above and beyond the call of duty each and every day. They refuse to be deterred from this work even when civil war conflicts make the job dangerous. We are not interested in putting anyone in harm's way, but their love for their country is such that they would be doing this work with our without our help. And they do their best to stay safe.
Each of these phases, and many of the individual projects, have their own comprehensive pages. Links to them can be found in their project sections on this page, in the book outline structure of this page, and listed at the bottom of this page. It is worth clicking over to these pages as they contain a plethora of photos and videos that bring this effort to life.
We realize this is a lot of information. As of this writing, Water Charity has done 65 projects in South Sudan… We believe that more information is always better than less, but if you would like to contribute without wading through all the details of this ambitious, ongoing effort, here is a donate button coded to this program and all funds collected on this page will go towards doing more wells in South Sudan. The "child pages" nested under this one also has donate buttons by which you can contribute to those individual wells and village projects. Our model is to pay for projects immediately with money we already have, and then offer such projects to donors to "adopt" or contribute to. This allows you to be part of an effort that is not only already underway, but often even successfully completed already.
Donate to help us do more projects in this program. There are hundreds of wells that need rehabilitation… possibly thousands!
​South Sudan
This is a country that we have wanted to work in for some time, but until now we had found it too difficult… especially in light of the fact that our normal partners, the Peace Corps, have no presence there.
South Sudan is not only the "newest" nation in the world (having broken off from Sudan after a long and bloody civil war that ended in 2005 and saw them achieve independence in 2011), but it is also among the very poorest. Water issues in the entire region are critical, and the people of rural South Sudan often have to wait in line for water with their Jerry Cans for days when water shortages are most extreme. This is a situation which has led to the breakup of many marriages, due to husbands not understanding why their wives have to be gone so long just to get water, and assume them to be unfaithful.
South Sudan has suffered a lot of internal conflict since its independence; it now has the highest score on the Fragile States Index (formerly the Failed States index).
The Honorable Bidali Cosmas Wori-Koji, Commissioner of Yei River County has given Water Charity, and our partners Water Is Basic, permission for drilling and rehabilitation of boreholes in Yei River County, South Sudan.
Well Rehabilitation details:
| | | | | | |
| --- | --- | --- | --- | --- | --- |
| Well # | Community Name | Boma | Payam | Household Served | Static/ Well Depth |
| 1 | Do'bo Area | Baka | Tore | 30 | 55m |
| 2 | Mukpara P/School | Baka | Tore | 70 | 60m |
| 3 | Munze Community | Baka | Tore | 40 | 65m |
| 4 | Hai Mundari | Baka | Tore | 32 | 68m |
| 5 | Kuronyangi Area | Avokaya | Tore | 50 | 45m |
| 6 | Purini Area | Avokaya | Tore | 50 | 65m |
| 7 | Tore Centre | Avokaya | Tore | 50 | 60m |
| 8 | Ramba Area | Avokaya | Tore | 60 | 65m |
| 9 | Prokele Community | Mundu | Tore | 55 | 65m |
| 10 | Bandame Community | Mundu | Tore | 60 | 70m |
| | | | | | |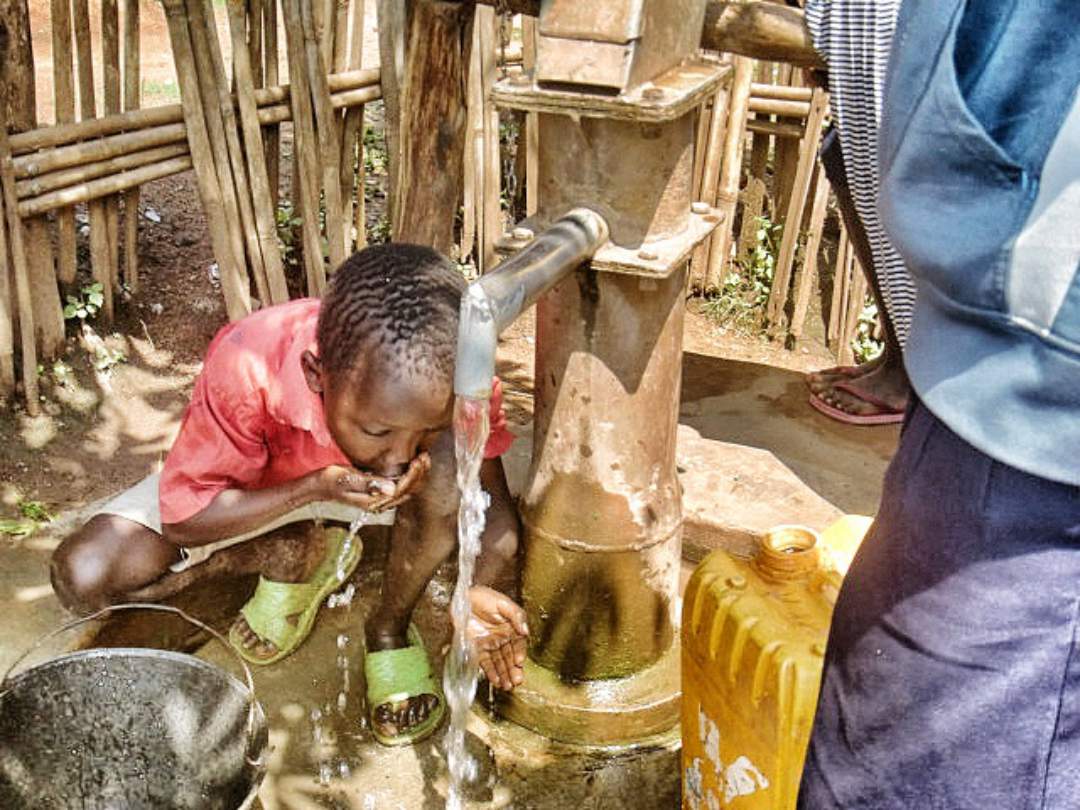 Each of the villages delineated above will be a separate project under this program. Furthermore, after these ten communities in the Tore area are served, Water Charity intends to continue the program in other needy locations. Water is, and remains, one of the most crucial issues of concern for South Sudan. People resort to drawing water from muddy pits, and are subject to a large variety of waterborne illnesses.
Eighty percent of people in South Sudan's hospitals are sick from drinking dirty water. According to the United Nations, waterborne diseases kill four children worldwide per minute. Women and children are the most vulnerable. According to USAID, one in every four children born in South Sudan dies before the age of five! Half of those deaths are from water-related illnesses that are easily preventable. Every day, Sudanese women and children spend hours bringing water to their families. Some are attacked by wild animals on their journeys, while others are robbed or raped. Time spent hauling water robs children of formal schooling while increased rates of malnutrition, anemia, and scoliosis rob them of their health.
South Sudan is a broken country. The infant mortality rate is 136.3 per 1,000, and maternal mortality is the highest in the world (South Sudan Medical Journal). It has the highest malaria burden in sub-Saharan Africa (Malaria Journal). South Sudanese live on less than $1 a day.
There has only been ten years of peace in the region since 1956, which has resulted in a lack of infrastructure. More than 2 million people have died, and more than 4 million have become displaced or refugees. In 2014, the UN High Commissioner for Human Rights reported that more than 9,000 child soldiers have fought in South Sudan's current civil war… to say nothing of the hundreds of thousands that have been forced to fight before Independence. Prior to the 2005 peace, the world watched as Sudan's Muslim north waged a genocide in the region of Darfur, a predominantly Christian region north of the current border. Many of the refugees from this crisis fled south into what has now become the sovereign, predominantly Christian nation of South Sudan. Darfur remains part of Sudan, but the world's attention has faded from the region, and most people have little idea of what is happening in Sudan or South Sudan anymore.
The current political crises in South Sudan (since 2014) has cost 10,000 lives and displaced 1.5 million people who are now dependent on streams, rivers and puddles for their daily water supply. More than 2.5 million people are in need of urgent help with their water situation.
Water Charity Gets Involved:
With this program, ten existing wells that are currently nonfunctioning will be rehabilitated. Each of the wells will have their own project and conclusion pages, which you will find below as they are ready.
The objective of well rehabilitation is to improve well performance, increase well capacity, clear silt deposits built up in the well, remove mineral build up encrusted on the pump screen, and repair or replace existing pumps. This is a way of utilizing work already done in order to provide clean water at a lower cost. By repairing or replacing hand pumps, we can serve as many people as a new well would at a fraction of the cost.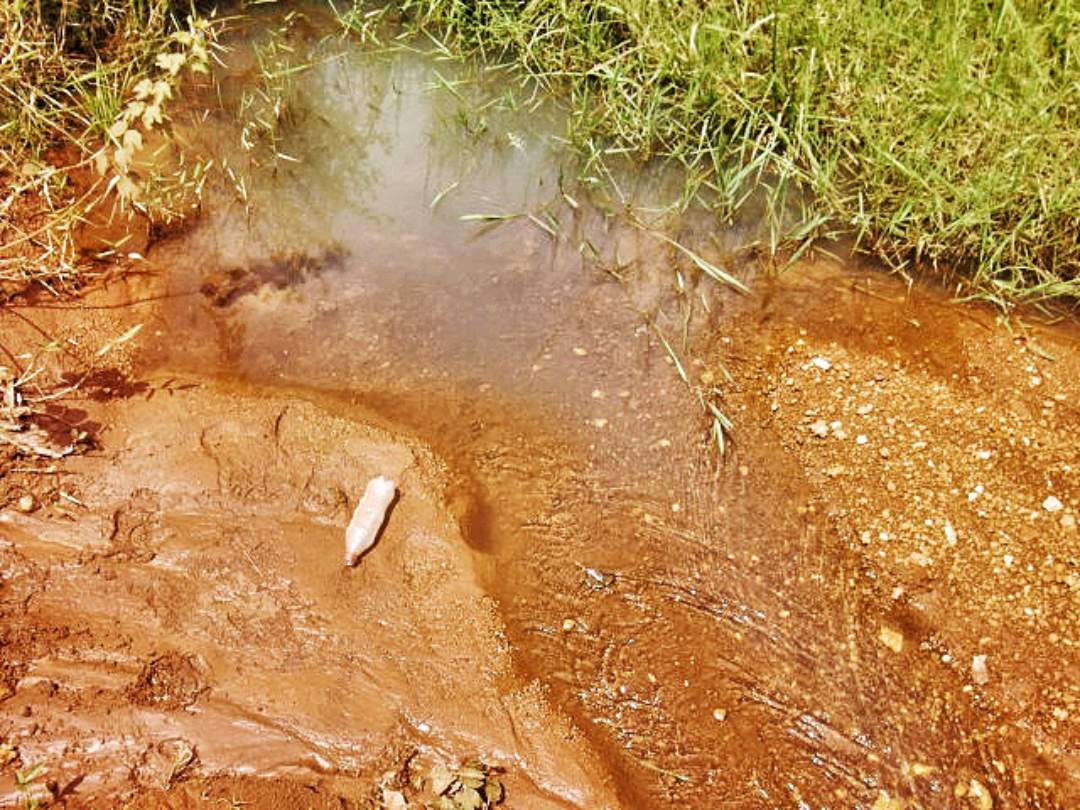 For this project, Water Charity is partnering with Water is Basic, a U.S. based 501(c)(3) organization that is also a South Sudan based nonprofit run by South Sudanese. The South Sudanese Water is Basic is a borehole drilling organization in the Republic of South Sudan birthed and led by Sudanese religious leaders in response to the Country's water crises. It is a Sudanese solution to a Sudanese problem. It is everyone's vision that every person in South Sudan has access to clean, safe water.
There is a need for, and capacity to do, as many as 100 well restorations per year… or more. South Sudan is Water Charity's 66th country of operation, and is a very important milestone for us. Being able to do meaningful work here, in what is clearly one of the most needy places on Earth, means a lot to us.
Water changes everything. As the Sudanese people are able to access clean water, they have witnessed a transformation of health. Death rates fall. Education rates rise. Access to food is increased, and local economies grow. Ancient conflicts over water rights and access become obsolete. Peace sweeps through areas where water shortages once caused civil war and conflict.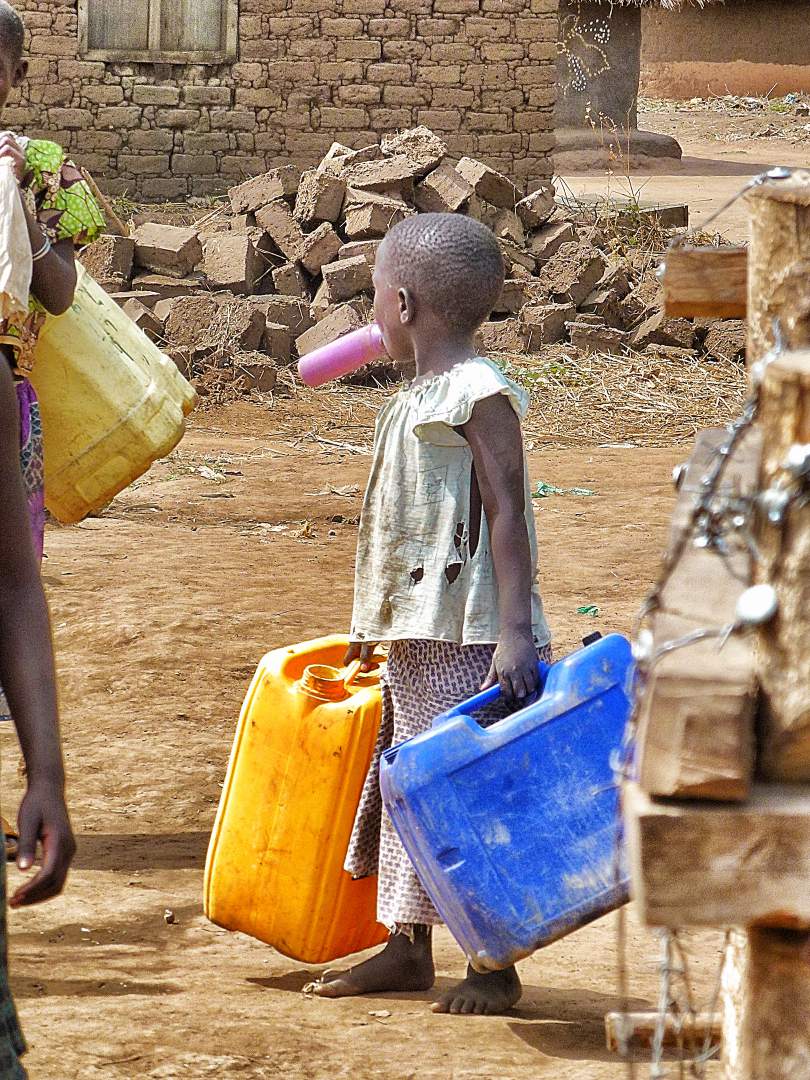 Phase 1 – TORE Region Highlights:
• Will reach 497 households, nearly 5,000 people that will have access to clean water
• Restoring 10 wells and replacing the broken hand pumps
• Holding a 5-day workshop training 48 water committee members on borehole operation and maintenance
Bonus:
• 3 additional well hand pumps will be repaired with local South Sudanese project funds helping an additional 150+ households access clean water.
Program History:
In August of 2015, Water is Basic funded a well hand pump repair workshop in Tore Payam of Yei River County of Central Equatorial State, South Sudan. This project aimed to train/retrain hand pump mechanics, educate water user committee members, and repair10 broken hand pump/wells. There were 7 total participants. The first 2 days were devoted to hand pump repair classroom held at Tore Catholic church Tore Payam. Lessons included hand pump parts/functions, proper tool/procedures, troubleshooting, and well maintenance. The teachings were fun and interactive; there are mixtures of new and returning participants. The next one day was perhaps the most important addressing the "software" They focused on borehole management, covering topics such as community ownership, source protection, and managing finances. This included each borehole's own water user committee, usually consisting of seven or nine members each. All water users' committee members made their own by–laws and set household water user fees, usually about $0.10 (35 SSP) per month.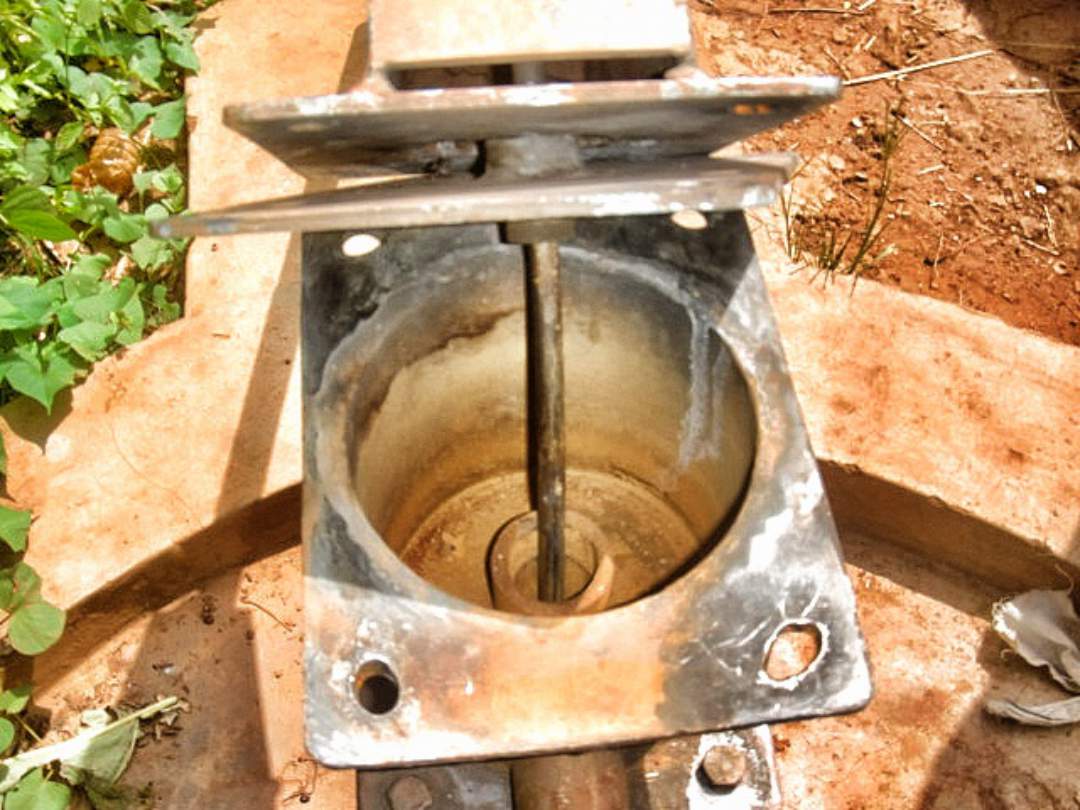 The remaining 3 days were all spent in the field, repairing the hand pumps and promoting proper hygiene. The participants were very eager to get real experiences to develop skills that complement their new knowledge. On the areas of hygiene promotion the participants are trained on the mode of diseases transmission, washing hands with soap or ashes, and clean water storage. All activity created quite a buzz, with decent sized crowds watching the technicians work, listening to the hygiene promotion, and performing tasks needed for the well (like cleaning the surrounding grass, picking up trash, and fencing the building sites).
The most common mechanical problems were worn out cylinders, pipes and rods. Other problems included broken handles, chains, pump heads and concrete pad repair. The participants had a chance to practice a wide variety of repair techniques during the workshop. The whole workshop ended with successfully repairing all 10 hand pumps and equipping their water user committee with the knowledge to operate and maintain them. As a result, an estimated 760 households in Morobo County now have access to clean water. Also 9 hand pump repair technicians have built both hardware and software skills to make a difference in the Payam (county).
Summary of Program Objectives:
Water Charity intends to expand on the capacity to do good work that our friends Steven Roese and WIB have managed to achieve with this training and well rehabilitation model. It appeals to our innate sense of economy of scale, efficiency, and high "bang for buck." We sincerely hope that via this partnership, we can change the lives of many people struggling in this newest nation on Earth. At the very least, we can remove extreme water and sanitation issues from among their problems.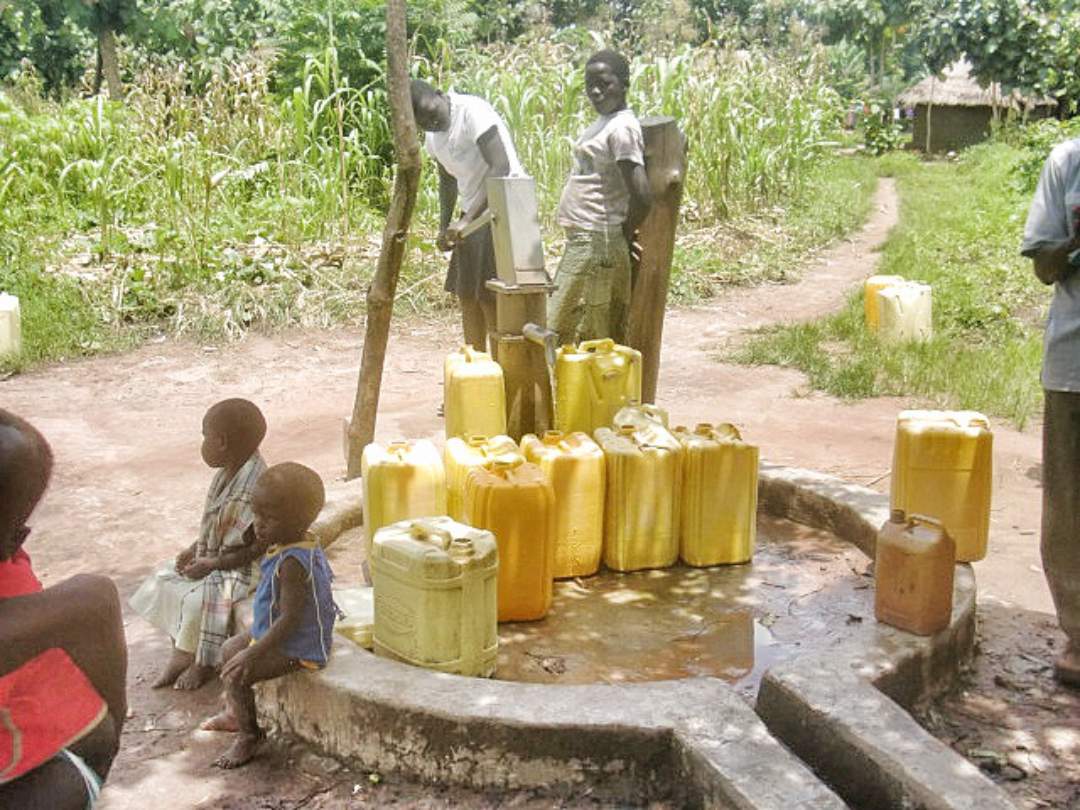 Being a new nation, born of war and strife, the resilient and proud people of South Sudan have a lot of work ahead of them to catch up to their neighboring nations like Ethiopia and Uganda. Many of the people in South Sudan even share cultural and linguistic ties to their neighbors… countries where Water Charity has already done a significant amount of work. We even have a similar program going in Ethiopia at this time, the Ethiopia Well Rehab Program, which we are confident that this program can replicate. In time we would like to replicate the successful borehole drilling operations we are doing in the Ethiopia Borehole Program in South Sudan as well. All this takes is funding. Please consider helping us with this very important work by clicking the donate button below.
UPDATE:
Water Charity is pleased to announce that PHASE 1 of our South Sudan Well Rehab Program, has been successfully completed… and all 10 wells rehabilitated, plus the bonus 3 for a total of 13 wells repaired! This program began with the region of TORE, in the Central Equatorial State where renewed violence has made it difficult for us to chek up on the communities. When the security situation is better, we will get back to these sites, and post updates. Meanwhile, we are continuing with multiple well rehabs in Yei County where many are displaced from the last 2 years of violence in Unity and Jonglei States. The next 10 well rehabs under the program will be in Yei, where the situation is currently safer, and closer to the base of WIB operations.
Read about PHASE 1 by CLICKING HERE.


PHASE 2 – Yei Region
Phase 2 has begun and is underway in the Yei Region of South Sudan, along the Yei River. Water Charity and Water Is Basic have decided to focus on this region of relative stability while the Tore region of Phase 1 remains inaccessible due to civil war outbreaks.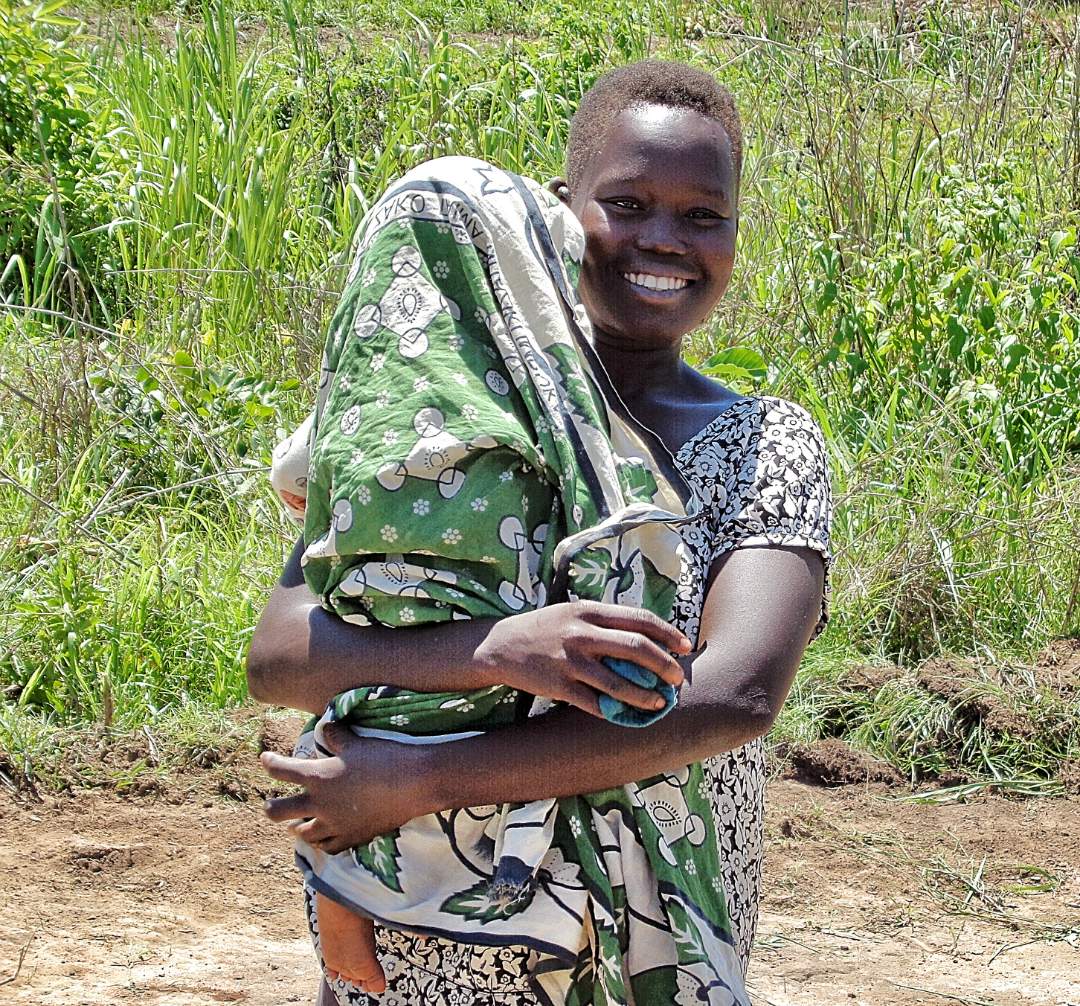 Phase 2 is already doubling the size of the program, and we hope to do many more projects as they are feasible. The rehabs there are being done as they come, and can be followed by clicking the individual well rehab links below. At present we have initiated projects to repair wells in Abegi, Lomulule, Bor Dinka, Loggo II, Illimoko, NTC, San-ji-Sari, Zezira II, and 2 wells in Marakonye​.
​​*UPDATE* – We are happy to report that all 10 of these wells have been repaired now. The conclusion reports for them are on their project pages. These pages are updated and amended with any new reports, videos and anecdotes from the field that comes in, so check back.
We wanted to expand on the success of Phase 1 & Phase 2, so we quickly put together a 3rd phase to help 5 more villages.
The 5 villages which we targeted in this phase are as follows:
Phase 3 Well Restoration Projects
Sobe Community, Lomuku 2, Lomuku 2 North, Jansuk Community, Equatoria College Community

We are happy to report that all of these 5 Villages have had their boreholes and pumps restored to full functionality. Furthermore, we are observing that once villages have functioning wells and working Water Use Committees to maintain them, the populations of the villages swell. Internally displaced people wind up flocking to locations where water is good and plentiful and we have seen increases in village populations by factors of 400% or more! This significantly bumps up the number of people served by a project. At some point we may update these pages to show more accurate project impacts, but for now it is good to know that the "ripple effect" of these projects is huge in a country like South Sudan, with so many refugees, and so few sources of safe water and many villages abandoned due to the conflict.
You can read about the projects and their conclusions on this (rather large) page which details all of the Phase 3 efforts: South Sudan Well Rehab Program – Phase 3.
For the 4th Phase of this program, we decided to step up and rehabilitate 20 boreholes. This effort will help an estimated 50,000 people regain access to clean, safe water.
As with the 3 previous phases, Phase IV is helping villages in the Yei River County or South Sudan. The wells repaired in this program so far have had a huge impact on the health of the people served. Furthermore, there have been a number of bonus benefits, including the fact that once the wells have been fixed, the populations of these villages swell by as much as 2 or 3x. The displaced people. who are basically in-country refugees, flock to such locations to settle down. The relative peace, combined with a steady, reliable water supply is a major draw for people who have fled from civil war and violent conflicts nearby. This has meant that the program has served quite a bit more people than we originally thought it would.
Another unexpected benefit has been how the wells, and the "water use committees" we have set up to maintain them have fostered a degree of cooperation and unity among divergent peoples… many of whom are in conflict elsewhere in the country. Water is truly a unifying force, and we have seen people of diverse cultures, and languages… across gender and political lines… coming together to ensure that their fledgling communities maintain that one, most vital of all resources… water.
For this effort, we are once again using the tremendous and effective local team of borehole technicians we have used throughout this program. We can not say enough kind things about the stalwart, and capable South Sudanese Water Is Basic team. They persevere through thick & thin, in conditions that are often unsafe. And, while we wouldn't have them put themselves in harm's way, it is not possible to discourage them from their mission. They would do this work with or without our help and blessing, truthfully. These are their communities we are serving, so they are motivated in a way that no foreign or outside team ever could be.
If you would like to read about this effort, go to the page we set up specifically for Phase IV, and see the plethora of pictures, stories and video pertaining to this work: South Sudan Well Rehab Program – Phase 4.
UPDATE: All 20 of these wells have been completed. Go to the Phase 4 page to read about these tremendously successful efforts.
We have just begun the fifth phase of this ambitious program. 16 more villages will have water once again, and we are proud to say that this work is having a huge effect for people returning to the country after years of civil war.
We are happy to report that in September of 2018, a peace accord was signed, and South Sudan is experiencing peace for perhaps the first time since it became a country. With an end to the civil war, healing and reconciliation are taking the form of development… and most of this is beginning with WATER. In fact, it has been widely reported that restored access to water has played a major role in enabling this peace in the first place.
Water is life, as we all know. So please read about the South Sudan Well Rehab Program – Phase V developments (by clicking the link here or above), and donate to this program, so we can do even more!
Well Restoration Projects
Sobe Community, Lomuku 2, Lomuku 2 North, Jansuk
Community, Equatoria College Community
Please help us do as many well rehabs as we humanly can by contributing to this program.

This program is made possible through the partnership of Water Charity and the National Peace Corps Association.