Likoswe Well Project – Malawi
This project is made possible through the partnership of

WATER CHARITY

and the NATIONAL PEACE CORPS ASSOCIATION.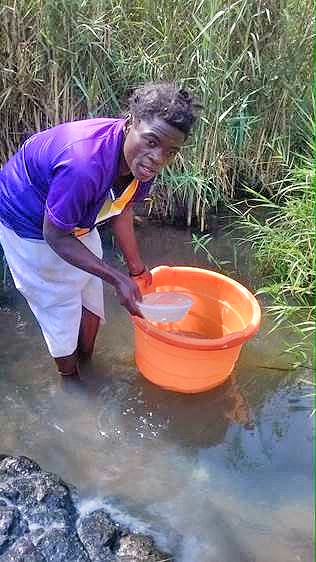 Location and Community Description
Likoswe Village, Chiradzulu District, Malawi. Likoswe is a typical rural Malawian village without running water or electricity, located about a twenty-minute walk from a rural stretch of paved road, connecting Blantyre and Mulanje.
Problem Addressed
There is no accessible clean water for residents of Likoswe Village. This leads to illness and, in some cases, death, particularly among children under the age of 5. Residents currently fetch water for drinking and cooking from dirty shallow wells or waterways like streams or rivers (see below). Women, in particular, are vulnerable in the absence of clean, nearby water sources. Women fetching water from sometimes distant, unsanitary sources have experienced domestic abuse for taking too long (husbands suspect infidelity), rape (when women venture into remote areas), and death from drowning in flooded rivers during the rainy season. A 13-year-old girl in Likoswe, Mphatso, was recently raped by a man from an adjacent village while fetching water from a stream. She now has HIV.
Project Description
This project entails constructing a borehole in Likoswe Village. The borehole location was chosen by a village project committee (see below), acting on behalf of the entire village. The site is publicly accessible. Construction will be done by EZ Borehole Drillers, a company located in Blantyre, with substantial experience in the area, including the Mlenga borehole funded by Water Charity in February 2015. The installation will take three days to complete. It is expected that water will be reached at about 45 meters, but the wells will be drilled to depths of about 60 meters, if necessary. Before drilling, a hydro-geographical assessment using electrical measurements will be conducted to find the depth of the underlying aquifer. The borehole will be guaranteed for one year by EZ Borehole Drillers. The Mlenga borehole is functioning well, with no reported breakdowns or complaints. Above ground, the boreholes will include a standard metal pump mechanism, a cement foundation to protect the pump mechanism, a cement spillway to direct water into a nearby vegetable garden, and a clothes washing station. Water Charity funds will be used to pay for the skilled labor as well as for the materials that cannot be found locally, such as piping, fixtures and fittings, and concrete. Communities will contribute volunteer labor, materials, including bricks and sand, and about $400 in cash (see bricks below).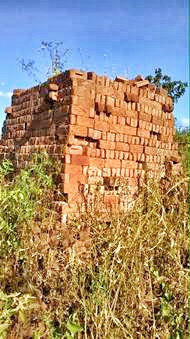 Project Impacts
Likoswe Village, Chiradzulu District, Malawi. 187 households; 738 people. There is a health center near Likoswe, and data will be gathered from that health center to evaluate the impact of the borehole, comparing rates of waterborne illness before and after installation.
Project Administration
The project will be administered by Michael Buckler, a Returned Peace Corps Volunteer who served in Malawi from 2006 to 2008. He is the founder and CEO of Village X, a social enterprise located in Washington, D.C. dedicated to improving community development work in sub-Saharan Africa. He is a member of the National Peace Corps Association, Friends of Malawi, and Returned Peace Corps Volunteers of Washington, D.C.
Monitoring and Maintenance
EZ Borehole Drillers will conduct 2 days of community-based borehole management training. Trainees will include the village chief and members of two borehole management committees, a technical committee (responsible for upkeep and maintenance), and a sanitation committee (charged with keeping the borehole tidy and planting a vegetable garden that utilizes excess water from the well). The technical committees will collect a maintenance fee of 100 MK (about 20 cents) per month per household to ensure that there are sufficient funds to adequately maintain the facility and repair it when needed. This is an important infrastructure project that will improve the health and well-being of Likoswe. It is well planned, with strong management and fiscal safeguards in place. It incorporates elements of oversight and buy-in by the residents to make them sustainable into the future.
Fundraising Target
$7,500
Funds raised in excess of the project amount will be allocated to other projects in the country.
Donations Collected to Date
$7,500
Dollar Amount Needed
$0 – This project has been funded by a major Water Charity donor, who prefers to remain anonymous.
Timing
EZ Borehole Drillers can start drilling the first week of June, with plans to complete the project during the same week.
This project has been completed! To read about the conclusion of the project CLICK HERE.
Comments
This project falls under the
Malawi Borehole Program
, an effort to drill wells for 7 villages in Malawi with our friends Village X (run by RPCV Michael Buckler), and within the Water Charity and National Peace Corps Association
East Africa Water and Sanitation Program
. It follows the Mlenga Village Well Project, which was the pilot project of the Malawi Borehole Program. A map of program well sites as well as the MBP collage can be found below.