Conclusion of Wondo Genet Well Rehab Program – Ethiopia
This fantastic project to restore water to 5 villages in Wondo Genet, Ethiopia has been completed.
To read about the beginning of the project, CLICK HERE.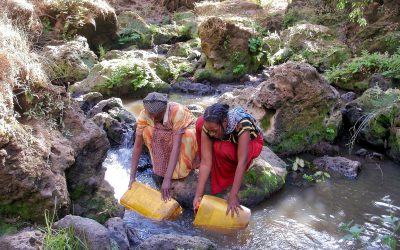 PROJECT BACKGROUND
Wondo Genet Woreda (District) is located in the Sidama Zone of the Southern Nations, Nationalities, and Peoples' Region (SNNPR) in southern Ethiopia. It is part of the Great Rift Valley and is bordered on the north and east by the Oromia Region. The District had an outbreak of dysentery in June 2016, attributed to contaminated drinking water. A cholera outbreak is affecting three associations with a population of nearly twenty thousand. The water source includes traditional unprotected sources such as springs and rivers as well and shallow hand-dug wells with water fetched with rope and bucket.
The clean water supply coverage of the district is low partly because of failed hand pumps. In June 2016, the District Water Bureau reported 60 broken pumps. In the absence of a clean water source nearby, women and children have to travel long distances to fetch water and this has a negative impact on the health and time management of women and children.
Poor hygiene and sanitation practices also contribute to the transmission of disease. Communities are not practicing proper disposal of excreta, hygienic handling of food substances and utensils, and management of animal wastes. An educational effort is needed to reinforce good behaviors that protect human health from disease outbreaks.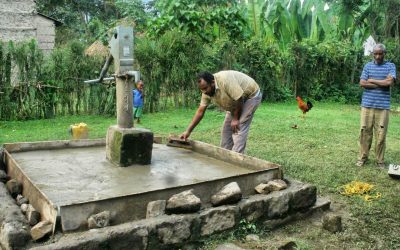 PROJECT SUMMARY
In order to address the great water needs and to play a role in combating the recent chronic dysentery outbreak in Wondo Genet, Water Charity & Water is Life International (WiLi) completed a project of 5 (five) well rehabilitations since August 2016. Well rehabilitations are a cost-effective way to recover clean water sources within a community. All of the wells that were rehabilitated were either not performing at all or seriously under-performing in terms of quality or yield. In all cases, the local community provided fencing materials and labor as needed for the rehabilitation process.
In addition to the hardware work that repaired the pumps, an educational process was conducted to increase responsibility and accountability for the continued maintenance of the pumps and to improve sanitation and hygiene practices. Water Use Committees (WUC) were formed for each well. The WUC is comprised of 4 women and 3 men elected from the community. They are encouraged to collect funds for the water to have a budget for future repairs. They also have been taught to be teachers in the community to promote practices such as washing hands and using latrines.
Village by Village Breakdown
Village

Previous Condition

Rehabilitation Intervention

Direct Beneficiaries
Wuchale (Bure)
The well was not functioning for the last 6 months; They travel over 2 km round trip to get water from springs; pump units out of use and needs replacement. Wellhead concrete is broken

Water committee not formed

The well was developed and cleaned; a new pump, riser main and PVC casing supplied & installed; and the pump head and adjustable handle restored. Wellhead reconstructed.

Water committee formed & WaSH training provided

The well was disinfected with chlorine

350

Megenano
The well was not functioning for 9 months; pump unit, rod & PVC beyond repairable; wellhead shattered and requires; travel far to fetch from spring sources rehabilitation
The well was developed and cleaned; rod and PVC casing supplied & installed, and wellhead rehabilitated.

WUC strengthened & WaSh training provided

The well disinfected with chlorine

357

Lomiche 2nd
The well was not functioning for the last 6 months; getting water from springs took women & children 40 minutes (round trip); damaged parts: rod, PVC, seal & bushings

Wellhead broken & WUC weakened; Sanitation & hygiene awareness low

The well was developed, cleaned, and broken parts of the pump repaired. Wellhead refurbished

WUC strengthened & WaSH training provided

The well disinfected with chlorine

525

Kube
The well was not functioning for 1 year; damaged parts: rod, PVC, seal & bushings; more people come from upstream areas to get clean water from this well; do not practice washing hands after toilet
The well was developed, cleaned, and pump parts repaired; wellhead rehabilitated; WUC established; WaSH training provided;

The well disinfected with chlorine

560

Lomiche 1st
The well was not functioning for 7 months. Upstream duelers came to collect water from this well. During pump breakage, they travel 1 hour to get clean water from other sources. Except for the pump head, all pump components are broken. Wellhead needs rehab
The well was developed, cleaned, and except the pump head, all pump components are replaced; Wellhead refurbished; WaSH training provided & WUC strengthened;

The well disinfected with chlorine

1400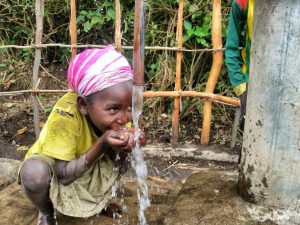 WELL REHABILITATION SITE SUMMARY

County

Village

GPS Coordinates

Elevation (m)

Depth (m)

Static Water Level (m)

Pump Type

Pump Depth (m)

Well Yield (L/s)

UTM East

UTM North

Aruma
Wuchale (Bure)

453619

771710

1708

12

6

Afridev

10

1.6

Aruma
Megenano

451660

771487

1701

14

6

Afridev

13

1.6

Edu
Lomiche 2nd

453508

772959

1708

13

7

Afridev

12

0.8

Edu
Kube

452958

772767

1725

14

8

Afridev

12

0.5

Edu
Lomiche 1st

453620

772458

1720

14

8

Afridev

12

0.5
Beneficiary Story: Buro Dekemo
Buro Dekemo is a 16-year-old, grade 9 student in a 9-person household. Buro and her family live in Lomiche 1st village. Her parents are farmers who grow coffee to provide for their families and create a livelihood. She is the eldest daughter and is responsible for fetching water with her mother. She wakes up at dawn to fetch water before the line gets too long.
When the pump broke, she had to carry 20-liter jerry cans for one hour to an unprotected spring. This negatively impacted her school preparation time and there were days that she missed the first period lessons at school. Buro was hoping for a day when the clean water source near her house to be repaired but her community has no means of maintaining the water scheme located in their village. Buro said, "I am so thankful the well is fixed. I can go to school and be there on time to attend my education! A burden has been lifted from our backs. You can see a smile on my face!"
PROJECT IMPACT
• 3,192+: The number of people each day who are receiving the life-giving benefits of clean water in Wondo Genet as a result of well rehabilitations.
• 35: The number of WUC members who were strengthened and trained to manage the rehabbed wells.
• 456: Number of household heads (patriarchs and matriarchs) who were trained in sanitation and hygiene awareness to become teachers that promote better WaSH practices.
We would like to thank everyone who participated in this effort… all the volunteers, villagers, workers and technicians. This wonderful work is a part of our larger Ethiopia Well Rehab Program, and falls under our East Africa Water & Sanitation initiative. Please consider supporting this project, the program, and/or the initiative itself, so more projects like this can be done. There were a lot of pictures taken, and even some cool raw video… much more than can be presented here. If you are interested in seeing more of this stuff, feel free to contact us, and you can look at this YouTube Playlist.