Wondo Genet Well Rehab Program – Ethiopia
Phase 2 of our Ethiopia Well Rehab Program: Promoting Transformation and Hope among the Most Marginalized in Ethiopia
This project is made possible through the partnership of Water Charity and the National Peace Corps Association.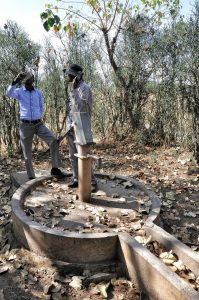 Location
Five villages in the Wondo Genet region of Ethiopia are spread across three Kebeles (counties). Kube, Wuchale 1, Lomicha, Wuchale 2, and Abosa.
Community Description
Wondo Genet is in the Southern Nations, Nationalities, and Peoples' Region (SNNPR) of Ethiopia, about a four-hour drive south of Addis Ababa. It also is part of the Sidama Zone located in the Great Rift Valley. Wondo Genet is bordered on the south by Malga, on the west by Awasa Zuria, and on the north and east by the Oromia Region. Based on the 2007 Census, this woreda has a total population of 155,715, of whom 79,664 are men and 76,051 women; 23,125 or 14.85% of its population are urban dwellers.
This region has been suffering from an interminable drought, as well as intractable poverty. As such, they desperately need assistance to meet their basic living requirements. The people of these 5 villages have wells that have fallen into disrepair and are currently unusable… thus making their hard lives even harder.
Problem Addressed
A WaSH survey conducted by the district water office shows that there are 60 existing wells that are not functioning and need repair to provide water to the respective communities. To meet demand, 81 new wells need to be constructed. Studies have shown that the operation and maintenance of water supplies fail after a short period of time because of poor operation and lack of effective maintenance. The district water office has no budget for maintenance and cannot effectively provide technical support. Delay or negligence in the operation and maintenance of water facilities negatively impacts the well-being of the population, forcing them to travel long distances and wait in lengthy queues for potable water. Many people resort to dangerous undeveloped water sources, most of which amount to nothing more than a muddy pit. Naturally, this causes severe, and often deadly, health concerns with a high incidence of waterborne illness.
Project Description
This project is to rebuild 5 wells, one in each of 5 villages.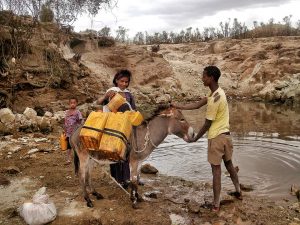 Water Charity has initiated the repairs by partnering with local NGOs to drill the wells deeper, replace handpumps, and otherwise enact repairs that will bring water back to the people of these villages.
Our friends at Water is Life International have people on the ground and a substantial infrastructure for doing WaSH work in the region, including a number of well-drilling rigs donated by our partners at Wine to Water. By partnering with these groups, WC is able to do these projects at a fraction of their normal cost, without having to have our own personnel waste valuable funds in transit.
Before the repair work begins, an intentional process to engage the community and the government is followed in order to avoid a handout-mentality that can create dependency. After receiving government permission, a Water Use Committee (WUC) has been elected in each community to take responsibility for the use and maintenance of the repaired well. The WUC is comprised of four women and three men, which ensures that women will have a strong voice and position to manage the well. The management of the well by the WUC usually includes charging a nominal fee to the users, in order to maintain a fund for repairs. This fund is then used for maintenance and repairs to keep the pump operational. In this way, our repaired wells are unlikely to meet the fate of many such wells in the region and should be functional far into the foreseeable future.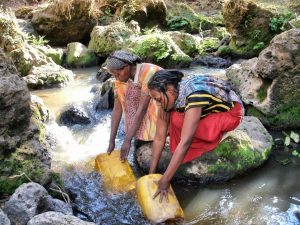 A productive and functioning well brings joy to the community as it promotes a healthier life, eases the physical burden of the community, and returns time to women (as the duty of fetching and carrying water traditionally falls to them). It is vital to the sustainability of the well that the community is involved in the project throughout the entire process for the design, planning, and implementation of the project. WaSH training is provided to the WUC so they can become permanent trainers in the community. The idea is to improve sanitation and hygiene behaviors within the community, such as Open Defecation Free areas and consistent handwashing, through the hygiene and sanitation training.
Hydrogeological conditions on-site indicate that groundwater is inaccessible depth (20 to 30 meters below the ground), has adequate hydraulic conductivity and storage volume and good quality.
Project Impact
Approximately 1,500 people will directly benefit from these repairs… as well as anyone who visits these villages.
Project Management
Josh Elliott, of Wine to Water, is providing administrative oversight for these projects. And Water is Life technicians are managing the implementation and training aspects.
Monitoring and Maintenance
The WUC set up in each village will be responsible for the monitoring and maintenance of their well. This will be overseen by WiLI personnel who will continue to work with the villagers and train their SLT's.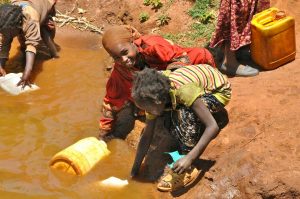 Comments
As we have more funding for this program, and its parent programs, Water Charity is committed to continuing this work and hopes to be able to fix all of the broken wells of Wondo Genet eventually. As such, we ask you to donate generously. Every dollar raised in excess of the cost of these rehabs will be spent on further rehabs in the region.
In this program, as with all WC projects, we have used existing funds to start this project immediately. We only ask for donations once projects are already underway. In this way, we can be extremely responsive and speedy in delivering aid where it is needed. Even a short delay in implementation can be costly when dealing with waterborne illness. Other charities reverse this, but we feel the time is of the essence. In this way, donating to this program is actually reimbursing us for funds we have already allocated. The more money we have on hand, the more projects like this we can start.
Dollar Amount of Project
$11,000
This project has been fully funded by an anonymous U.S. donor. To help us provide more programs like this one, please Donate to our Ethiopia Well Rehab Program.
This project has been completed. To read about the conclusion, CLICK HERE.