Diadkovychi School Water Project – Ukraine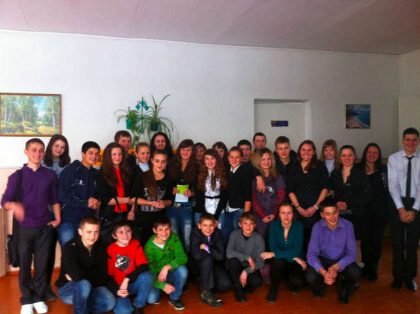 Location
Diadkovychi Village, Rivne Oblast, Ukraine
Community Description
Diadkovychi is a very rural village with farms and forests. The people are rather poor and the community at a whole is at a disadvantage.
The Diadkovychi School serves children from first grade until the eleventh and serves kids from two other surrounding villages.
The parents of the children cannot afford to give very much money to the school for repair work, and the village government does not have much money to give back to the community.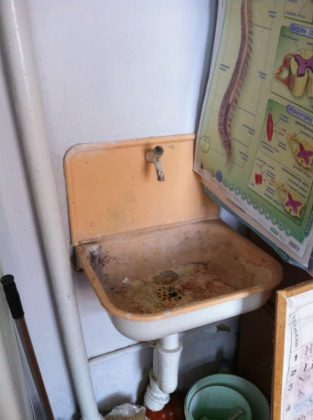 Problem Addressed
The plumbing system in the school is in very bad condition, as it has not been replaced in about 50 years. It is rusting and decaying, and the water is not safe for drinking.
Water is only available to the students on the first floor at a few sinks, and water does not reach the upstairs at all. This is a problem for the older students who have all their classes upstairs.
Project Description
This project is to replace the plumbing system in the school in order to provide adequate drinking water to all parts of the school.
The new plumbing will reach the second floor and will be available to the upper class for both drinking and other classroom needs. In addition, the water used for cooking will not have to be boiled and will be safer for students.
After purchasing the materials, the old and rusted pipes will be removed and replaced.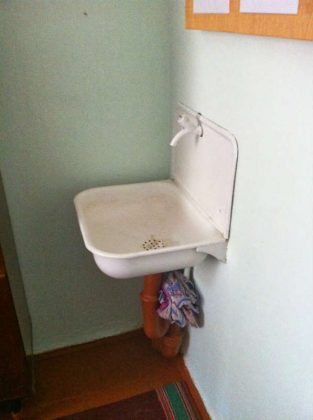 The Water Charity funds will be used to purchase two sinks (one for the first floor and one for the second floor), the pipe, fittings, and fixtures.
The community will supply the labor by the school's handyman, and will pay any additional costs.
Project Impact
150 people will benefit from the project.
Peace Corps Volunteer Directing Project
Grace Ansani
Comments
This is an important infrastructure project for the school. It will improve access to water for drinking and cooking, and will thus improve the health and wellbeing of students and staff.
Dollar Amount of Project
$555.00
Donations Collected to Date
$555.00
Dollar Amount Needed
$0.00 – This project has now been fully funded through the generosity of James Berg, of Paradise Valley, AZ, USA, with the help of friends and family of Peace Corps Volunteer Grace Ansani.
We encourage others to continue to donate using the Donate button below, and we will notify Grace of your donation. Additional funds will be used to fund the next project by Grace and/or those of other PCVs in the country of service.