Dang Tong District Water Project – Cambodia
This project is made possible through the partnership of WATER CHARITY and the NATIONAL PEACE CORPS ASSOCIATION.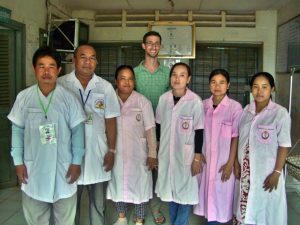 Location
This project summary has been redacted for security reasons to omit the specific project location.
Xxxxxxxxx, Dang Tong District, Kampot Province, Cambodia
Community Description
Xxxxxxxxx is home to about 10,000 people. It is located directly on the national road, so it's not your typical quiet Cambodian community. Many people commute to and from the local provincial town or the capital city every day.
Even though Xxxxxxxxx may be more hustle-and-bustle than your average Khmer community, none of the famous Cambodian friendliness has been lost. Every day is different from the next in the village.
Problem Addressed
Xxxxxxxxx Health Center serves the greater community's pre/post-natal care needs. Pregnancy check-ups, deliveries, and vaccinations are all done there. The center also provides basic medication and simple procedures, such as minor sutures.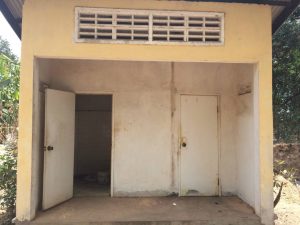 Currently, all water provided to the health center is pumped out of a well on the corner of the property and placed in plastic buckets in the rooms where it will be used. Stagnant water is a breeding ground for mosquitos, bacteria, and therefore disease. The health center staff is left with no other practical option than to use this water for handwashing, cleaning minor wounds, and sanitizing medical equipment. This greatly increases the probability for staff and patients to contract or spread disease.
Project Description
This project is to construct a system to deliver water from the site of the well directly to the rooms of the health center to be used for all medical needs. Water will be pumped from the well using a motor and directed into a 2,000-liter water tank. The tank will stand 6-8 meters off the ground, supported by stilts. A series of pipes and hoses will connect the water tank directly to the rooms requiring water (bathrooms, ante-natal care room, delivery room), which are already equipped with sinks and a water disposal system.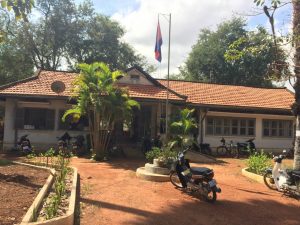 The Xxxxxxxxx Health Center staff will implement the project and maintain the system, which is expected to result in an improvement in hygiene and sanitation. Time and energy will be saved, and there will be a great improvement inpatient care.
Project Impact
The entire community of 10,000 people will benefit from the project.
Peace Corps Volunteer Directing Project
A. Gonglach
Monitoring and Maintenance
The running water system requires minimal upkeep. The plan for sustaining the project requires nothing more than occasionally pumping water into the water tank and taking care of the water pump and pipes.
This project has been funded through the generosity of the International Foundation.