CTNP Permagarden Training – Ghana
This project is made possible through the partnership of WATER CHARITY and the NATIONAL PEACE CORPS ASSOCIATION.

This project has been completed. To read about the conclusion, CLICK HERE.
The fifth training of our Permagarden Training Initiative – Worldwide will take place in May 2018. Peter Jensen will train local community-based farmers and volunteers in Ghana with his Terra Firma Permagardens for Empowerment and Resilience course. Here is an outline of what we intend to accomplish in this monumental initiative to spread permaculture technology across the globe.
What: Permagarden Training and Outreach
Trainer: Peter Jensen, RPCV (Haiti, 1985-87), Agroecology and Permagarden Training Specialist.
Host and Local Director: Solomon Amuzu, Founder and Director of Call to Nature Permaculture
Where: Aburi, Ghana
When: May 14-17, 2018
Who: 30 local community-based farmers and volunteers
The step by step Terra Firma Method will be used throughout to guide learners and future trainers on how to make the most suitable all-organic, water-conserving, nutrition-focused, home garden for this particular climate and culture.
Terra Firma guides the learner to make the most informed agroecological-appropriate garden but can also be used intersectoral in public health, youth development, and small enterprise development situations as well.
All actions within the workshop will foster independence rather than dependence upon outsiders to continue. The Terra Firma method uses only the tools, plants and soil amendments that are already locally accessible to targeted beneficiaries, namely rural poor farmers, mothers, and children, enabling further adoption within the local community following training by these soon to be trainers.
Follow up within 3 months of training (by Mr. Amuzu and his staff) will be reported to show onward adoption of this simple yet empowering methodology. 60 home gardens are anticipated within this first period; benefiting 7 people per garden for an expected total of over 400 persons. A full year later this figure will be expected to be near 300, implicating an outreach to over 2000.
Training Details
We will be creating the 'classic Perma garden' on Solomon's property below this outbuilding. This will cover all the key water controlling and soil health topics. This will be over the first 2 days. This area will become a fully established 2-bed, 4-berm Perma garden following all the Terra Firma Steps: assess, capture, protect, produce and manage.
Here are the before pictures of the 'keyhole' garden areas:
These will become concentrically aligned swales, berms and garden beds capturing and sinking the runoff into the landscape to grow small kitchen focused gardens.
This is the actual kitchen. The whole group will be divided up into 5 groups of 5 in order to give them all a chance to create this simplified and highly impactful method from an attitude change perspective.
The small groups will create smaller versions on their own at other points that can collect and sink the runoff. That home landscape is going to be utterly altered forever!
Here is the general landscape of the outreach practicum house:
The group will make keyhole Perma gardens all along the top edge of the property so as to control the runoff before it gets too severe.
We will also be creating a swale below the pathway to bring this water under control as well. It will be guided gently into the banana plantation.
Although this project has been fully funded by an anonymous donor, your contribution using the button below will be used for our next permaculture training project in Africa.
A donation has been made through a campaign arranged by Emma Sinare in which contributions were made by Autodesk employees, with a matching company share. Emma submitted the following dedication:
"My father, Alhaji Sinare, was endlessly active and passionate about initiatives that bettered the lives of people in Ghana. Although he left Accra for Canada as a young man, he remained dedicated to his home country through construction projects, exporting goods from Canada, or sourcing medical supplies for hospitals, among others. It warms my heart to help give back in his honor, and I wholeheartedly thank you for your support."

Conclusion of CTNP Permagarden Training – Ghana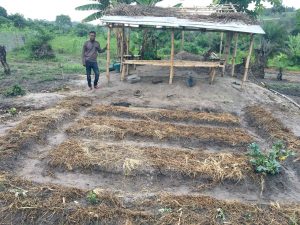 This project has been completed under the direction of Peter Jensen, Agroecology and Permagarden Training Specialist. The training was hosted and locally organized by Solomon Amuzu, Founder and Director of Call to Nature Permaculture. To read about the start of the project, CLICK HERE.
Peter reports:
The training ended in style with a 30-minute shower being fully captured by these new permagardens! I have high expectations from Solomon and his team of community volunteers to roll out these gardens over the next few weeks before the heavy rains of June through August arrive.

We had 25 adults plus 10 students each day. The Classic Permagarden was fully completed in just 2 days. It is complete with 4 swales and 4 double dug berms and 2 double dug beds. The beds were interplanted with cowpeas and collards or swiss chard and cowpeas. The berms were planted with mint and lemongrass and broccoli filling in the gaps until the perennials take over.

The water from the 4 x 8- meter roof and sloping land will add up to nearly 40,000 liters over the course of the rainy season (June – September). The majority of it will be forced into the subsoil due to the swales and berms and be held below the double dug beds. Over the course of the first half of the dry season (October to December) this subsoil moisture will return to the root zone to nourish the second vegetable planting meaning no additional hand watering will be required.

This Keyhole garden is different from others. Unlike the others, this one is positioned to take full advantage of small sections of sloping land for water capture and erosion control at the same time.

This particular TF Keyhole has the initial water collecting swale along with a corresponding berm planted with lemongrass and spinach. The design is simple to lay out once contour is visualized, then drawn by using the feet and a stick in a very simplified manner which all participants thoroughly enjoyed.

The virtue of this method is that it is smaller and simpler than the classic permagarden so can fit into smaller spaces and be a major first victory for positive attitude change. As in all Terra Firma trainings, the only materials or tools we use are the ones the targeted beneficiary already has or can easily borrow.

This 'keyhole' will collect the runoff from a 4 x 8-meter slopes which over the course of the rainy season means upwards of 32,000 liters of water will slowly and safely sink deep into the subsoil of these garden beds and will return during the dry season to nourish a daily supply of greens and legumes for the family kitchen.

Over the course of the next month, Solomon will continue to encourage his team to create their own permagardens, either the larger classic version or the new "keyhole' Permagarden, at their own homes and to teach at least 3 neighbors in the process.

This was an exceptional group of highly engaged community volunteers. I expect to see great results in the months to come.
We extend our thanks to Peter and Solomon for completing this important project.