Conclusion of Creative House for Children Bathroom Project – Ukraine
This project has been completed under the direction of Peace Corps Volunteer Emily Watson.
To read about the beginning of the project, CLICK HERE.
The project was to repair and upgrade the sanitation facilities at The Creative House for Children.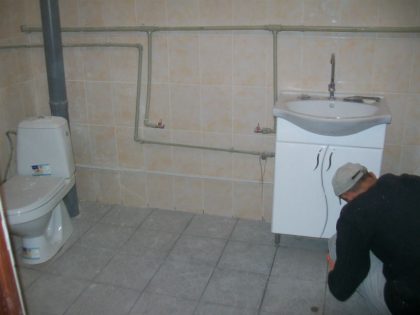 Emily reports:
We completed our most recent water project!

Project funds were matched by a community contribution. Funds were used to employ locally skilled technicians, replace pipes on the first and second-floor restrooms, replace the main pipe leading to the sewer system, replace first and second-floor sinks and toilets, as well as provide for cosmetic updates such as new paint and tiles. The ceiling of the second-floor restroom was also replaced.

The administrators of the youth programs at the Creative House for Children are delighted with the upgrades and especially appreciative of a ceiling that will be structurally sound in time for the upcoming winter. Children and community members with physical disabilities are especially appreciative of better access to the first-floor restroom.
We wish to thank Emily for completing this project, and again extend our gratitude to The Soneva SLOW LIFE Trust for providing the funding.