Conclusion of Copinol Water Supply Project – El Salvador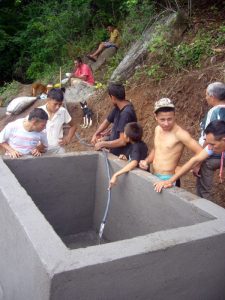 This project has been completed under the direction of Peace Corps Volunteer Alex Wang.
To read about the beginning of the project, CLICK HERE.
The project was to establish a safe source of water for the community of Copinol.
Alex reports:
The project to build a communal pila and run piping from the water source is done.

The hard costs were as follows: $639.74 in materials, $100 for transport and $270 for qualified labor.

It's taken more than a year, but it's been worth it. The water receiving tank and the foundation for the pila 100 meters away were completed on time. However, the considerable delay was in receiving the promised assistance from the Mayor's office for the piping.

Even just within these past couple of weeks, there have been a number of close calls when we've been working and rocks would come flying past our heads. Only yesterday, there was a rock-slide that washed away a tree.

The community is highly grateful. They finally have a safe place to draw their water, bathe and wash clothes.

Thanks for all your support!
We are grateful to Alex for completing this important project, despite the adversity, and again wish to thank James Berg and Alex's friends and family for providing the funding.