Conclusion of Velyka Lepetykha Secondary School #1 Water Filter Project – Ukraine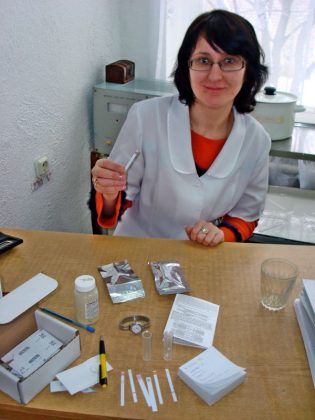 This project has been completed under the direction of Peace Corps Volunteer Megan Trout. To read about the beginning of the project, CLICK HERE.
The project was to purchase and install a water filter into the kitchen of the school to provide clean water for cooking and drinking.
Megan reports:
The Velyka Lepetykha Secondary School #1 Water Filter Project has been a great success!

Water Charity funds were used to pay for the purchase of one water filter and cartridge, a water liter counter, a water testing kit purchased and shipped from America, and lastly, cleaning materials used to prepare the vat in which newly filtered water is stored.

A "Total Water Quality Test Kit" was purchased and the PCV and the School Nurse completed the tests. The results of the water test on the local water of Velyka Lepetykha were astonishing. Levels of Nitrate, Sulfate and Chloride are dangerously higher than the Maximum Contaminant Level listed and enforced by the EPA.

The results of the water tests are being developed into a poster board, which will be placed prominently in the school to inform all interested parents of the dangers of consuming unfiltered or unboiled water. The poster board will also display information regarding the water filter purchased for the school as well as other filtration systems available for home purchase.

Results of the water tests have also been shared with School #2 and will be shared with other organizations throughout the community.

We purchased an Aquafor Viking Water Filter with the capacity of filtering 40,000 liters of water per cartridge. School janitors and technicians were able to assemble and install the filter for free.

Some project funds were used for the purchase of needed tubing for connecting the filter to the water supply. Other funds were used to purchase high-powered chemicals for the cleaning of the vat in which the water sits before use in cooking. The results are a much more sanitary kitchen providing healthier meals to the happy children of School #1!

I would like to personally thank Water Charity for providing the needed support for the completion of this project. I am so grateful for the opportunity to implement this project and to provide my school with safe drinking water. I am also grateful for having had the chance to test the tap water and to now be able to educate my fellow community members on the dangers of our drinking water and the appropriate measures that need to be taken in order to remain healthy.
We again wish to thank The Soneva SLOW LIFE Trust for providing the funding for this project.