Conclusion of Tree and Medicinal Plant Orchard Bathroom Project – Thailand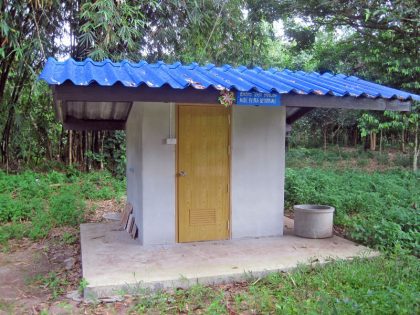 This project has been completed under the direction of Peace Corps Volunteer Joel Gerstman. To read about the beginning of the project, CLICK HERE.
The project was to build a new bathroom at the Tree and Medicinal Plant Orchard.
Joel reports:
The bathroom at the Tree and Medicinal Plant Orchard was completed in about a month.

In addition to the money donated from Water Charity, the community contributed roughly an additional $100 for supplies and provided the labor to complete the project. As the bathroom previously existing on the site had too many problems to be easily repaired, the group decided to build a completely new structure to house a new bathroom.

The base and walls of the structure are cement, with a metal roof supported by wooden beams. A water supply tank and drainage basin were also constructed out of cement in the ground outside the structure. The inside of the bathroom is finished with tile flooring.

The toilet fixture was purchased new and is the only structure on the inside of the bathroom, besides a water storage bucket for flushing. There is water supply to the bathroom through a hose, and an outside water supply for handwashing.

The bathroom was officially opened in a ceremony coinciding with the yearly celebration hosted at the site for Father's Day in Thailand (the King's birthday). It was a special day for me personally, because my dad was here visiting me. To mark the special occasion, the community included my dad, Ira Gerstman, in the ceremony by letting him cut the ribbon during the bathroom opening. After the bathroom opening ceremony, everyone proceeded to help plant new trees at the site.

Having a usable bathroom at this site is a big benefit to many in my community, including people who attend frequent gatherings there and students who visit to learn about the environment and see the types of plants grown. Community members have taken pride in the newly improved site since the day it was opened, are very grateful to Water Charity for making this project possible.
We wish to thank Joel for completing this project, and to The Soneva SLOW LIFE Trust, with the help of Joel's friends and family, for providing the funding.