Conclusion of Stara Volyn Training Center Water Project – Ukraine
This project has been completed under the direction of Returned Peace Corps Volunteer Gerri Schultz on behalf of Water Charity and the National Peace Corps Association.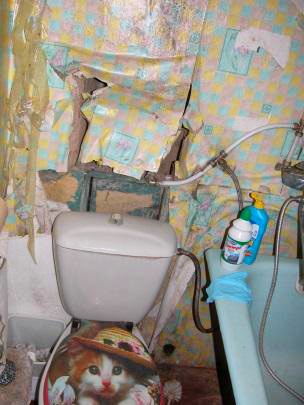 To read about the beginning of the project, CLICK HERE.
Gerri Reports:
A Hrystiv apartment was donated in 2013 to the Foundation for Sustainable Development, Stara Volyn ("Stara Volyn") to be used as a training center. The apartment's water and sanitation facilities were inoperable and in disrepair, and Water Charity provided grant funds to assist with renovations of the bathroom and kitchen water supply.

Here are photos of the bathroom before and after the project was completed:

To accomplish this transformation, the floors, bathroom walls, bathroom door, bath tub and toilet were removed. Then old drain pipes and water pipes were removed and replaced by a new water supply and drainage system. A concrete floor layer was installed on which a floor heating system was mounted and topped by a second concrete layer.

After the floor was completed, new electrical wiring and fixtures were installed, and new walls were built. Walls and floors were tiled, and finally a new door, toilet, water basin, mirror and shower were installed.

Following are before and after photos of the kitchen area:

As with the bathroom, the kitchen sink, cabinets, wall and floor were removed. Then old drain pipes and water pipes were removed and replaced by a new water supply and drainage system to be utilized if a new kitchen sink and faucets are required in the future New flooring, new electrical wiring, and a new wall were also completed.

The entire apartment was renovated, resulting in a pleasant, comfortable training facility that has been in operation since early 2014.

"Stara Volyn is thrilled with its training center and is grateful for Water Charity's contribution to resolving its critical water and sanitation problem," said Center Director Nataliya Hnatyuk.. "Thanks to those who have generously donated funds that make these types of projects possible."

Respectfully submitted,

Geraldine Schultz, Peace Corps Volunteer, 2012-2014
We would like to thank Gerri once again for executing such a fine project, especially since she was able to see it through to completion after PCVs were evacuated from Ukraine. Though the project is completed, we still haven't recouped the funds used. Please consider donating and adopt a finished and valuable project, the "ripple effect" ramifications of which will help aid workers to assist the community at large.
Dollar Amount Needed
$530.00