Conclusion of Sofievka Professional Lyceum Facilities Project – Ukraine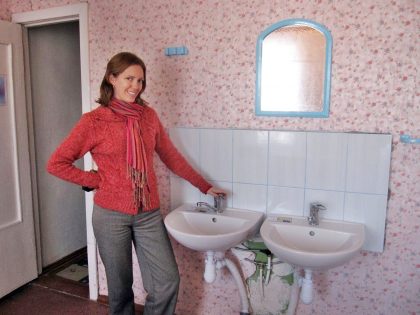 This project has been completed under the direction of Peace Corps Volunteer Emma Griffis. To read about the beginning of the project, CLICK HERE.
The project was to upgrade the facilities at the Sofievka Professional Lyceum, including providing an additional toilet, two sinks, and a shower on the residential floor.
Emma reports:
Sofievka Professional Lyceum now has two new sinks, a new toilet, and a new shower for over 300 students and staff. Residential students, numbering around 80, are the main beneficiaries of this project.

Within days of receiving funds from Appropriate Projects, Lyceum staff purchased materials and began preparing the small rooms that would be used for the bathroom and shower room. Staff replaced all the pipes needed to run water to (and sewage from) the fourth floor of the building, which houses the dormitory. The next step of the process was to finish the rooms with new drywall, tile, paint, doors, and light fixtures. Finally, the toilet, shower, and sink fixtures were installed.

The process took longer than expected, primarily since it was interrupted by the winter holidays. Staff also had a difficult time connecting the new piping to existing pipes on the ground floor. However, everything is currently in working condition!

The final step, after the ground thawed, was to connect an existing hot water heater to provide hot water for the shower and sinks.

Students and staff are thrilled with the project's outcome. They're very thankful for Appropriate Projects and the possibility to improve and add to Sofievka Professional Lyceum's sanitary facilities. Thank you!
We again wish to thank The Soneva SLOW LIFE Trust for providing the funding for this project.