Conclusion of Savannah Water Spring Project – Kenya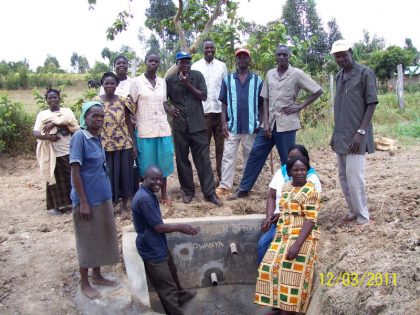 This project has been completed under the direction of Peace Corps Volunteer Brian Shultzabarger. To read about the beginning of the project, CLICK HERE.
The project was to construct a centralized piped water spring for the six rural villages of the Savannah community.
Brian reports:
The Savannah Water Spring project has been successfully completed. Construction went very smoothly and took only 5 days to complete. We had 4 masons working every day until completion and the project committee members managed all labor and construction costs as well as all material transportation to site.

Both the project committee and the community were very enthusiastic throughout construction and showed their support by providing breakfast, lunch and dinner to all the workers, as well as a few extra hands and materials when needed. Community members came in from all over just to watch construction and to talk about how excited they were that this particular spring was being developed.

During construction a deep trench was dug out from the water spring in order to channel the outflow of water into the adjacent crop fields for irrigation. This new water channel is currently being linked up to a network of nearby irrigation channels which soon will provide clean water to a large number of farmers, their families and their fields.

Several of the nearby school teachers also came by to watch and to talk about how beneficial this spring will be for their students and how important it is for them to have easy access to clean water.

On the last day a large number of people came by to visit and shake hands with the committee and the masons and to watch as the community name was inscribed on the face of the spring wall. In order to show their appreciation of their sponsorship, Six Senses Resorts and Spas was also written out on one of the spring walls.

We had a dedication ceremony on March 12, 2011, and the project committee invited around 20 people from the community for lunch and a few speeches. During the lunch everyone present took turns expressing their appreciation for the project. Many people commented on the design of the spring itself and said they were very thankful for the quality of its construction. They were very appreciative of the project committee and Six Senses sponsorship for providing them an opportunity to build a quality water spring which would continue to benefit the community for many years.

I also want to say thank you for giving me the opportunity to work with your organization on this project. It has left a really positive impact on everyone involved and will be such huge benefit to the Savannah community.
We again wish to thank The Soneva SLOW LIFE Trust for providing the funding for this project.