Conclusion of San Pedro Nonualco Medical Clinic Project – El Salvador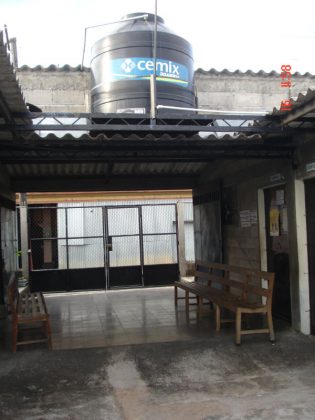 This project has been successfully completed under the direction of Peace Corps Volunteer Rhett Williams. To see the history of the project CLICK HERE.
Rhett reports:
The potable water and bathroom project in the Parish Medical Clinic "Immaculate Conception" in the municipality of San Pedro Nonualco, department of La Paz, El Salvador has been completed.

A sink was installed in the general practitioner's consultation room, as well as in the dentist's room. The dentist also received a drain for all loose fluids. Two bathrooms, one for male and one for females, were constructed in front of the medical clinic. Finally a 1,100 L tank was installed in the clinic to provide water for the clinic on a more permanent basis.

The system has been functioning for six months and has provided the doctors a way to carry out their job in a more sanitary way, while at the same time providing the sick and elderly an alternative to the steep descent/climb to the rapidly filling latrines out back.
We again wish to thank The Soneva SLOW LIFE Trust for providing the funds for this project.