Conclusion of Samroung Chhai Well Project – Cambodia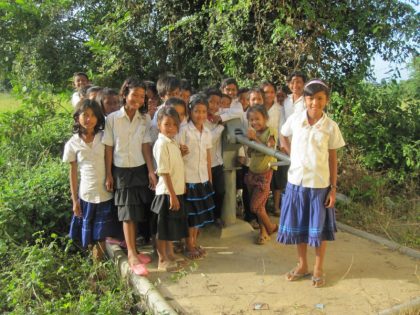 This project has been completed under the direction of Peace Corps Volunteer Sally Vanture. To read about the beginning of the project, CLICK HERE.
The project was to drill a new well at the Hodaka Primary School.
Sally reports:
The original plan was to drill a new well next to the old one, but after the drilling company arrived on site they decided they could just drill in the old hole and make it 10 feet deeper.

After the drilling was complete, they put in the new pipe and pump then assembled the other working parts of the old well's structure around the new items.

The concrete surrounding the immediate part of the well that was damaged during drilling was then replaced.

The drilling company was very committed to this project as they provided the labor for free and carried all the equipment across 3 kilometers of rice fields.

We also got a local NGO to donate water filters, so the school children now have access to drinking water during the day. In addition, the toilet is also now functioning because of the new well.
We are grateful to Sally for completing this important project, and again wish to thank the Elmo Foundation, with the help of Sally's family and friends, for providing the funding.