Conclusion of Nongyarangka Library Bathroom Project – Thailand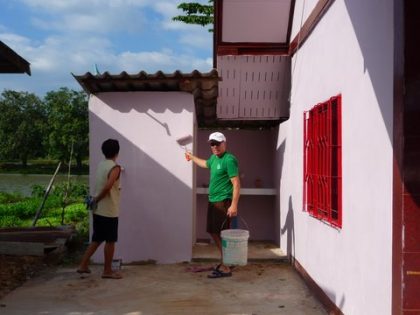 This project has been completed under the direction of Peace Corps Volunteer Lynda Carlson. To read about the beginning of the project, CLICK HERE.
The project was to build a bathroom for the new community library.
Lynda reports:
Our bathroom project is complete. The old unused facility was remodeled to accommodate a western toilet and hand sink.

Two local handymen gutted the latrine and removed the old squat toilet, along with two cement tanks. Piping was connected from the toilet to a buried waste container and water run from an existing village line to the facility.

They tiled the floor and walls of the commode area and then installed a sink in the outer area.

The pictures include one of the finishing touches being applied by the librarian and a helper and a list of contributors to the library.
Lynda comments on how the project was received:
It is a wonderful addition to our library and an opportunity to teach young people about hand washing and hygiene. Ponetong cannot thank you enough.
We again wish to thank The Soneva SLOW LIFE Trust for providing the funds for the project.