Conclusion of Murram Pump and Well Improvement Project – Kenya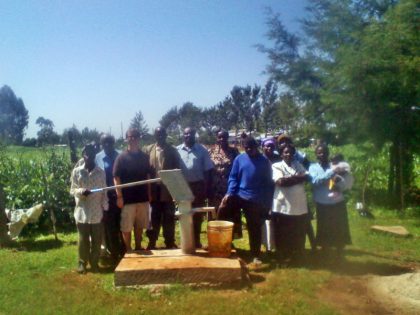 This project has been completed under the direction of Peace Corps Volunteer Brian Shultzabarger. To read about the beginning of the project, CLICK HERE.
The project was to install a new water pump at an unsecured public well.
Brian reports:
I wanted to inform you that the Murram Community Water Pump project has been successfully completed. While this project was continuously delayed with numerous setbacks and obstacles, by the time the pump was delivered to our community the construction was easily completed within two weekends.

The primary delays we faced were a two-month pump unavailability, multiple modifications to the pump unit to fit our well, which took almost another two months, transportation and installation agreement issues, and a small problem with funds that had to be reclaimed from those who we had paid for services that were not completed.

However, once everything was settled and the pump was modified and successfully arrived at the site, our local mason was able to set the pump and lay the cement foundation. A reinforced foundation was set the following weekend and a water purification solution was added to ensure the water was immediately safe to drink.

Since the installation, the community has been very enthusiastic and grateful. We had a dedication the end of May, and we invited several people from the community area to visit the site for a small ceremony. During the ceremony, I visited with several people from around the community and received various thanks and words of appreciation for the project. After the ceremony and throughout the afternoon, almost 30 people came to collect water for their families.

I want to say thank you for again giving me the opportunity to work with your organization on this project. The people of the Murram community area are incredibly grateful for its success, and want to express their appreciation to the Elmo Foundation for their generous support.
We, in turn, are grateful to Brian for completing this project, his fourth in partnership with Water Charity. We join Brian in expressing our gratitude to the Elmo Foundation for their support for this project, and their genuine dedication toward our mission of alleviating water and sanitation problems wherever they may exist in the world.