Conclusion of Murandi Health Center Water Project – Rwanda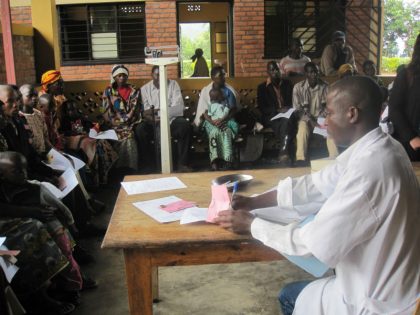 This project has been completed under the direction of Peace Corps Volunteer Jessica McGhie. To read about the beginning of the project, CLICK HERE.
The project was to connect the health center's hospitalization rooms for men, women and children to the water source.
Jessica reports:
Murandi is one of Musanze District's most remote health centers, and although the center is surrounded by natural water sources, the staff did not have the money in its budget to pipe water from the nearby valley without the assistance of Water Charity.

This health center's titulaire is a master at maximizing his limited resources, and he takes pride in the center's quality nutrition, hospitalization and maternity services that draw patients from all over the region.

Local community members provided the labor for this project, which included digging ditches to pipe water in from the nearby valley and the installation of sinks in the hospitalization rooms.

One patient I spoke to said that before the sinks were installed in the room, she struggled to clean herself and her belongings in a bucket or walk to a tippy tap outside. The running water has returned dignity to long- and short-term hospitalized patients in Murandi and has made caring for them much easier for staff and family members.

The projects your funding made possible were some of my best experiences in the Peace Corps. Thank you again!
We again wish to thanks James Williams and Felicia Draper who provided the funding for the project.