Conclusion of Kralanh High School Well Project – Cambodia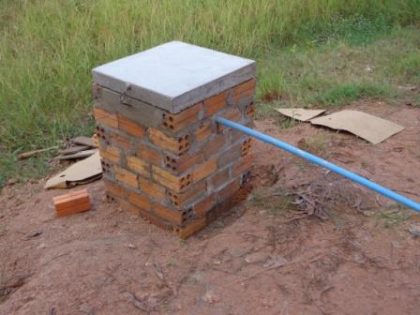 This project has been completed under the direction of Peace Corps Volunteer Neysa Peterson. To read about the beginning of the project, CLICK HERE.
The project was to build a well to supply the school with clean water.
Neysa reports:
The well at Kralanh High School has been completed according to plan.

It only took a day, and it has been a huge success thus far. The students have been talking about the new well that now gives them access to water to wash their hands, clean the school, and even use for their new small garden.

The well that was chosen incorporates an electric pump. The only change from the plan was that the outer covering was altered a bit to make access to the electrical box for the well easier.

A teacher at a local school built the well, and it was amazing to watch him interact with fellow teachers and explain to them the importance of having a water source.

I appreciate all the hard work and contribution from Appropriate Projects.
We are grateful to Neysa for her timely completion of this important project. We are still seeking help in funding this project so that we will have money on hand for the next one.