Conclusion of Kirovograd Teacher Trainer Institute Water Project – Ukraine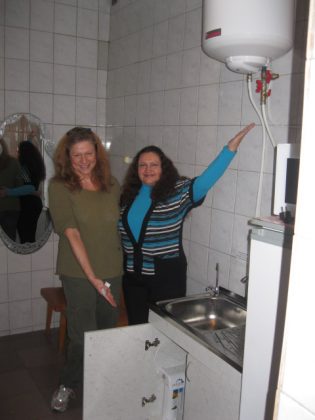 This project has been completed under the direction of Peace Corps Volunteer Donna Thompson. To read about the beginning of the project, CLICK HERE.
The project was to purchase and install a hot water heater and a filtration system at the institute.
Donna reports:
Two hot water heaters were purchased. One was placed in the faculty room and one was placed in the women's restroom. The hot water heaters were to provide hot water to wash dishes, clean the facility, and wash hands after restroom use.

Also, a top-of-the-line water purifier was placed in the faculty room. The water purifier was to provide drinking water to the staff and students.

The "Trade Union" at the facility paid for workers to come and install the hot water heaters. Both heaters were mounted above the sinks in the respective rooms. Additional hardware had to be purchased by the trade union for braces to hold the mounts to the wall and piping to connect the heaters to the sinks.

The company that we bought the water purifier from sent a worker to the Institute to install the unit under the sink in the staff room.
Donna reports on how the project was received:
Natasha, the cleaning woman, stated: "I am so very grateful to have hot water to clean with. My hands have become so bad from trying to scrub areas clean with nothing but cold water. I don't mind coming to work now!"

Irina, the foreign language chair, stated: "You have no idea how much it means to our people that we now have very clean drinking water. There are so many of us that are older and our health was bad from consuming unclean water. It so good now that we can have chi or coffee and not be fearful for our health."

Kolya, the trade union president: "I'm so very happy that we, through the help and assistance of the fabulous water project grant, are now able to offer our staff hot water for washing and cleaning and finally water we can feel good about drinking and cooking with. Thank you, a thousand and deep thanks to the project managers."
We in turn wish to thank Donna for carrying out this project.
We are also grateful to The Soneva SLOW LIFE Trust for providing the funds for the project.