Conclusion of Kiliya Conservation Project – Ukraine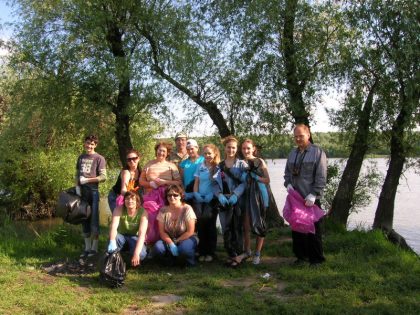 This project has been completed under the technical direction of Peace Corps Volunteer Barbara Trecker. To read about the beginning of this project, CLICK HERE.
The project was to engage in a publicized Clean-Up and Conservation effort in the public access areas of the Danube River banks in the wetlands area.
Barbara reports:
We have conducted a big clean-up along the Danube River bank at the most popular swimming spot for youngsters. Both the children and the adults who took part said it was invigorating work:

"It felt really good to make the riverbanks clean, and now she is so kressiva (beautiful) again!" said one lad.

"Our lives are interesting and useful," as my colleague Larisa Malykh wrote in her gazette article about the action.

One of the most important scenarios of the afternoon was when we found a rusty can of benzene at the edge of the water, just near the most-popular jump-in spot! We were glad to get that out of the water before it could break open and make children, fish or birds ill!

We also found a cache of disposed of baby diapers left over from picnickers, which could represent a bio-hazard. These things were discussed with the children by my colleagues.

The clean-up action was so fulfilling and fun that we have decided we will be doing this at least once a month throughout the summer and fall, concentrating on a couple of the most popular fishing, picnic and swimming spots.

We hope that if people using the river see kids cleaning up as volunteers, they might just take on a bit more responsibility, and not leave their rubbish behind. We will also take other steps to re-educate the community about the ill effects of litter.

We are now well-prepared to keep up the good effort, thanks to the assistance we received, which was used to obtain tools, work gloves and bags.

On behalf of my host organization "EKO-Zhavoronok" and the children of Kiliya Ukraine: THANK YOU! … DYAKUYU! … and SPASIBA! to Water Charity for the quick assistance for our spring/summer clean-up efforts along the Danube.