Conclusion of Kavunyalalo Water Catchment Project – Kenya
This project has been completed under the technical direction of Peace Corps Volunteer DeAnne Turner.
To read about the beginning of this project, CLICK HERE.
This project was to improve the sand dam and water catchment system for Kavunyalalo.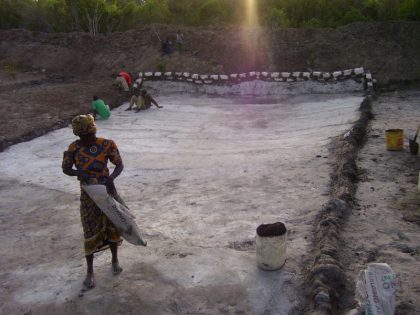 DeAnne states in her final report:
The people of Kavunyalalo, led by a community health worker, dug a water catchment system/seasonal dam. A similar design was previously found effective in the area.

During the short rains a leak was found in the basin. Plastic bags were donated and used to temporarily lessen to leakage of the water. The group decided to take action to improve the water catchment dam.

To enhance the functioning capability of the water basin, cement was set in the center portion. This portion encompasses the entire area previously vulnerable to leakages. The group also built a reinforced far wall, where water from the seasonal stream typically hits, to strengthen the capability of the concrete at the most vulnerable location.

Short walls were also built to aid in the catching of sediment that may tumble. This will help keep the water less turbid so that standard treatment measures, such as chlorine tabs provided by local NGOs and available at low costs can be used. It also will provide a nearby water source for a village that previously had no easy access to water.

The rains have begun and the basin is now efficiently holding water, allowing for a successful nearby water source. The water is also less turbid.

The cementing of the basin took approximately seven days, though these days were not consecutive due to community obligations. From the day of first implementation, the water catchment system was completed in approximately one month.
We would like to thank DeAnne and the people of Kavunyalalo for effectively carrying out this project, with completion accomplished on time and within budget. We also want to acknowledge the generous donations of the friends and family of DeAnne, with special thanks to Alfred Graham, who contributed the "last dollars" to fund the project.