Conclusion of Kalinga ng Ama Shelter Water Project – Philippines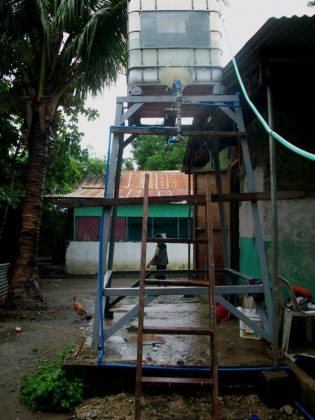 This project has been completed under the direction of Peace Corps Volunteer Susanne Hicks. To read about the beginning of the project, CLICK HERE.
This project was to replace a water pump and water storage tank for an existing well, and replace piping as needed to make the system functional.
Roland E. Santiago, Th.D., Chief Executive Officer of the shelter reports:
The need for an operational water system for Kalinga ng Ama Shelter for Children facility in Dagupan City has been a problem for several months after the storm hit on the last quarter of 2009.

It is with gratitude and appreciation to the U.S. Peace Corps through the instrumentation of USPC volunteer Suzie Hicks that finally the 40+ residents of the shelter have been eased from the difficulty of obtaining water for their daily need.

The financial assistance of US$500 has been used to refurbish the old water tank, and repair the old pump. However, even after its repair, it was not functioning properly, and so a new pumping machine had to be purchased in order for water to freely flow from the ground to supply the kitchen area, and two other comfort rooms that have also been recently repaired.

Susanne conveys the gratitude of the recipients:

On behalf of our staff and client children, we thank you for your support for the needs of our Shelter.
We again wish to thank The Soneva SLOW LIFE Trust for providing the funds for this project.