Conclusion of Justo Rufino Barrios School Water Project – Guatemala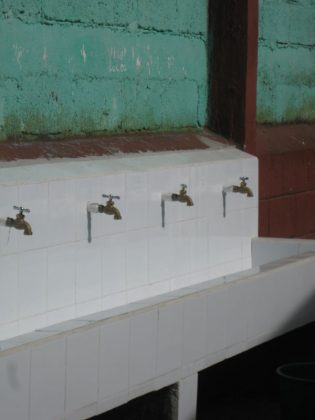 This project has been completed under the direction of Peace Corps Volunteer Christine Dutko. To read about the beginning of the project, CLICK HERE.
The project was to build a cistern at the school for water storage, and a handwashing station for use of the students.
Christine reports:
Briefly, the project progressed very well. The construction team was very professional and built the water deposit and 9 sinks within the deadline given by the school.

The finished product turned out very well. The water tank is located underground just in front of the faucets. The sinks have a descending height so that younger kids can use one side while older kids can use the other.

The sinks were covered in tile so as to be easier to clean. Everything is in working order and is ready for students to use in the next school year.

The community is very pleased and many community members were able to attend the inauguration of the project.
We again wish to thank Hannah Wachs, and the friends and family of Peace Corps Volunteer Christine Dutko, for providing the funds for the project.