Conclusion of Jom Jang Community Center Sinks Project – Thailand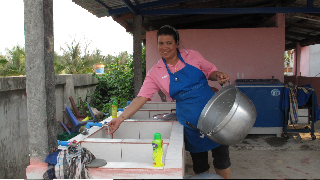 This project has been completed under the direction of Peace Corps Volunteer Jeremy Johnson. To read about the start of this project, CLICK HERE.
This project provided for a small covered area, containing a set of sinks for the purpose of washing, rinsing and drying dishes, at an active community center.
A concrete slab was poured, the area was covered by a roof, and sinks were installed according to the plans. The center is now able to serve food under hygienic conditions.
We are still seeking donations to pay for this project. Please contribute by using the Donate button on the project page.