Conclusion of Hincesti Well Improvement Project – Moldova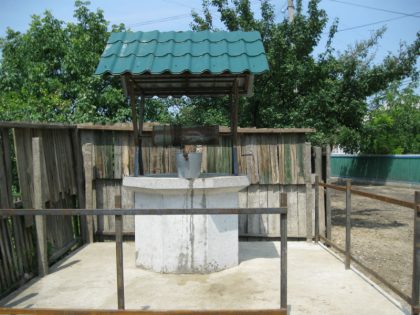 This project has been completed under the direction of Peace Corps Volunteer Katharine Auchter. To read about the beginning of the project, CLICK HERE.
The project was to improve the Hincesti public well.
Katharine reports:
With more rain than usual, the well repair in Hincesti was completed ahead of schedule. Due to recent precipitation, workers were unable to tend to their fields and instead focused their labor towards the well.

At times there were upwards of 12 people volunteering, when no more than half a dozen were expected. This allowed workers to take breaks, share heavy loads, and generally work more efficiently with reduced risk of injury. The rains also kept the usually sweltering July days relatively comfortable.

After receipt of the money, the two leaders of the project met me in the town of Falesti one day to purchase materials from the construction stores. This included the cement rings to line and rim the well, cement, sand, small tools, the well winch, and a cover. Set for delivery the following day, work began the subsequent week. The money appropriated by the Water Charity covered the cement rings, well rim, winch and cover.

First, over the course of two days, the rocks lining the old well were removed so there would not be a risk of the well crumbling in. This was a recommendation made when the well specialist determined the rock lining too unstable and dangerous (Initial plan was to keep the rocks in place and place the tubes inside).

Then the new cement rings were installed in three days. These new rings will be sturdier and safer than the previous rock wall, allowing for more frequent cleanings.

After this process, the well underwent a thorough cleaning. It had been many years and the cleaning was much needed. As a result of the cleaning, so much debris was removed that they reported that it is a more plentiful source of water in addition to being cleaner.

After this, the large hole around the upper surface of the well had to be filled in and the surrounding ground paved.

The new well winch (metal, to replace the old wooden one) and cover was installed, and the water was once again available to the community.

The community is appreciative of the financial support provided by the Water Charity / Appropriate Projects and donors. They are grateful for improved access to potable water. The men expressed feelings of camaraderie in working together for a common good to help their neighbors.

Many people approached me with thanks and told me how crisp and clean the water tastes now. They all extend a heartfelt "Multumesc frumos!" (Beautiful thanks)

Thanks again for your help! What a wonderful organization.
We wish to thank Katharine for completing this project, and again extend our gratitude to The Soneva SLOW LIFE Trust for providing the funding.