Conclusion of Dioila Women's Garden Project – Mali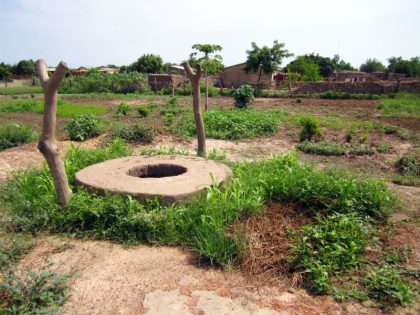 This project was completed under the direction of Peace Corps Volunteer Chris Romero. To read about the beginning of the project, CLICK HERE.
The project was to repair the top well, to prevent standing water and the entry of contaminants into the well.
Chris, now a Returned Peace Corps Volunteer, reports:
Thanks to the generous donations provided through Appropriate Projects, the Dioila Women's Garden Project (Dioila, Mali) for top well repair and completion was successfully implemented.

In fact, I even recently received phone calls from the town's engineer, who helped oversee the construction project with me, and the head of the women's group, both of whom stated the top of the well is no longer fully submerged during rainy season and the water quality is greatly improved.

Two years ago, the women's garden had a typical garden fence (made from tree branches and shrubs) that was constantly taken down by animals, and a traditional well (i.e., hole in the ground) that wasn't deep enough to provide water during dry season when it is needed most. Now, there is a garden maintained daily throughout the year, with a newly dug well. The well has both top and bottom well filters, and improved water quality and well stability. There are three cisterns for additional water storage and conveyance, a new chain-link fence to prevent animals from entering, and a rope-and-knot pump to help reduce the amount of labor to draw water.

The garden is now being used by the women and their families to provide both an additional source of nutrient-rich food, as well as a means for earning additional household income.
We extend our thanks to Chris for completing this project, and to Gunnar Gundersen and Chris's other friends for providing the funding.