Conclusion of Cuemal Water System Project – Peru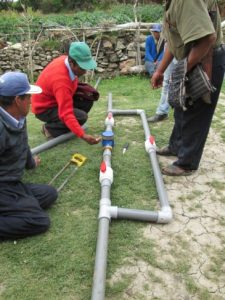 This project has been completed under the direction of Peace Corps Volunteer Olga M. Cano. To read about the beginning of the project, CLICK HERE.
The project was to improve the water system by installing a water meter and needed piping and fittings.
Olga reports:
BACKGROUND
Water Charity provided funding for the installation of a Water Meter in Cuemal – a rural community in Northern Peru with a population of about 250. The water meter aims to provide accurate data on the amount of water being delivered to the community.
Due to the lack of monitoring on water consumption, no water conservation practices had been adopted amongst users, resulting in shortages during dry seasons. Water losses could not be calculated and thus system maintenance and operation were not perceived to be of importance. Additionally, water treatment had been unsuccessful due to the lack of accurate information regarding the amount of chlorine needed to properly treat the amount of water supplied.
The project had both qualitative and quantitative goals. The long term goal was to inform and educate the community on the importance of properly managing their water at the household level and also understand the importance of proper maintenance and operation of the system. Furthermore, we hoped to find a reduction in water consumption as improvements are made throughout the system – sealing of leaks, replacement of leaky faucets, adjustment of valves, replacement of broken pipes – as well as improvement in water management practices by users.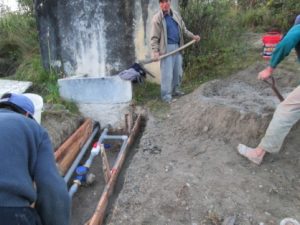 The new water meter will serve as both a monitoring and educational tool as we record water usage and bring awareness to the community on levels of water consumption as well as water losses due to leaks or other failures in the system.
Ultimately, water operators will be able to implement an appropriate water treatment system by knowing the ratio of chlorine to water needed and thus proving the community with potable water.
PROJECT
With the funding provided by Water Charity the water committee in Cuemal was able to purchase materials needed to properly install the water meter. A series of meetings and workshops was held both with the water committee and the community.
Below is a project timeline:
Nov. 2, 2013 – Water Committee meeting informing committee of funding acquired.  Budget plan reviewed and adjusted as per funds available.
Nov. 23, 2013 – Meeting postponed
Dec. 14, 2013 – Meeting and workshop.  Review of installation and operational procedures of water meter.
Jan 26, 2014 – Community Meeting. Water Committee presented work plan of water meter installation and provided a detailed explanation of objective and benefits of the water meter installation.  Community was given opportunity to ask questions and express concerns.
Jan 29, 2014 – Delivery of materials to site.
Jan 31, 2014 – Water Meter installation CANCELLED due to shortage of materials
Feb. 1, 2014 – Delivery of materials.
Feb. 8, 2014 – Water Meter Installation work day.  Installation finalized.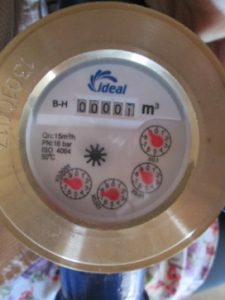 With the water meter installed we will be taking weekly readings in order to build a database to which improvements can be compared. The information will be made public and monthly reports delivered at water committee meetings. Additionally, a "school water program" will be carried out at the local elementary school where kids will participate in the readings of the meter and the implementation of water conservation activities at their homes.
CONCLUSION
The installation of the water meter has been a significant achievement within the framework of a larger project. The information provided by water meter readings will support our ongoing campaign of promoting safe water access to rural communities, while bringing awareness of both the community's rights and obligations when it comes to benefiting from said services which are essential to their livelihoods.
I would like to personally thank Water Charity for their support which was of essence for the implementation of this project.
We are grateful to Olga for completing this project, and again wish to thank the Paul Bechtner Foundation and Olga's friends and family for providing the funding.