Conclusion of Brikama Lefaya Water, Sanitation, and Hygiene (WASH) Improvement Project – The Gambia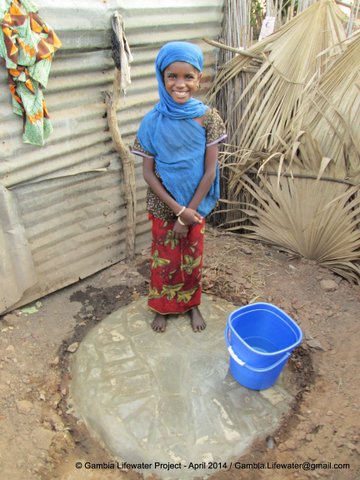 This project has been completed under the direction of RPCV Jeremy Mak.
To read about the beginning of the project, CLICK HERE.
The goals of this project were completed, and done simultaneously as the Central River Region Handpump and WASH Improvement Program – Phase 2 – The Gambia, another of the many projects that Jeremy has done for WC… the impressive totality of which can be seen HERE. In this way, Jeremy was able to achieve some economy of scale… i.e. not having to travel out to these "remote" villages more often, bringing supplies for both efforts all at once etc.
Most of the individual elements of this project were done as they were laid out in the project page, but some elements were changed or swapped for other, more pressing, WASH issues. Slabs were installed; the hygiene situation was improved, and we congratulate Jeremy on his ability to prioritize on the fly. There were other, bonuses, and benefits achieved as well. For instance, a women's garden was established, the spillway troughs in one location were repaired etc.
Jeremy was able to achieve a large amount with modest funding by being efficient and utilizing other small sources of funding to fill in where WC money was being stretched thin. We would like to thank Jeremy, his Gambian work crew, and his other donors… for making projects like this possible. From his time as a PCV in The Gambia, and in the years since, Jeremy has been tirelessly steadfast in his unwavering dedication to bringing water and improved sanitation to the people of the region. Flying to The Gambia on his own dime, and gathering funds from his family and friends–even chipping in some of his own money when prices of supplies went up–he has consistently gone over and above the call of duty. We work with selfless and dedicated PCVs and RPCVs all the time, and in the field of such humanitarians, Jeremy is in a very small and exclusive circle. Hats off.
Donations are still being accepted on this project. All funds over and above the expenses of the project can be earmarked for further work by Jeremy, or his colleagues, in The Gambia.