Conclusion of Bolnisi Youth Center Bathroom Project – Georgia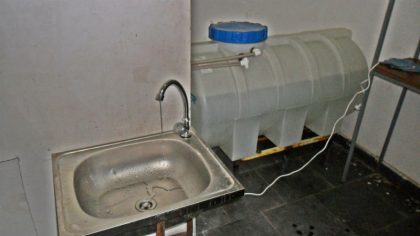 This project has been completed under the direction of Peace Corps Volunteer Shawn Basey. To read about the beginning of the project, CLICK HERE.
The project was to make the bathroom at the youth center safe, functional, and sanitary.
Shawn reports:
After we received the funds, we went to hiring a plumber here in the town of Bolnisi. The original plumber who had agreed to do the work decided he didn't want the job after all, so it took us some time to find another plumber.

He and two workers came to the youth center and surveyed the kitchen and bathroom. He went to the neighboring town of Marneuli, bought the supplies needed and went on installing everything.

After he was done, the Youth Center became the proud owners of a flushing toilet, two working sinks, a water basin, a pump, a working shower, and a pressure regulator to turn the pump on and off. In addition, he installed new pipes from the intake and to the sewage.

Subsequently, a false wall was installed to hide the water basin and pump and clean up the work site.
We again wish to thank The Soneva SLOW LIFE Trust for providing the funding for this project.