Conclusion of Bang Phai Primary School Water Station Project – Thailand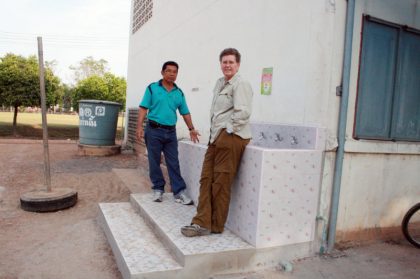 This project has been completed under the direction of Peace Corps Volunteer Sue Akins. To read about the beginning of the project, CLICK HERE.
The project was to build a new drinking water station at the Bang Phai Primary School.
Sue reports:
This project resulted in the construction of a new and accessible drinking water station at the school. Workers from the school and family members of the students donated their time and tools for all the labor required.

The new drinking water station accommodates the different heights of the children and has six stations. It provides clean water and a sanitary location for the students to brush their teeth after eating. This facility provides an opportunity to practice good oral hygiene at a time when good habits can become a way of life.

The station is about 8 feet wide and 2 to 2 1/2 feet deep, and is made of concrete and tile. An extended platform was built for the students to stand on so they won't have to stand in the dirt.

Once the old drinking water station was removed, the foundation for the new station was poured and the construction of the new station began. The water supply is from the school's water source. About 20 feet of pipe was replaced.

The project funds were used to purchase the materials, including concrete, tile, plastic pipe, fittings, and faucets. Most materials were acquired from Bang Mul Nak which is about 12 km away.

Once the project was completed there was a big party thrown to say thanks and show their gratitude for the generosity of the donors. The children of Thailand have a great respect for any and all gifts given. They take great pride in caring for the few things that they have and I feel confident that this drinking water station will be cared for and remain functional for many years to come.

With the efforts of the Thai Government to improve dental hygiene, the children of Bang Phai, Thailand will have a chance at better health and perhaps a longer life as a result. This project will directly affect about 135 students, and indirectly it has affected the entire community of Bang Phai.

Thanks to everyone who had a hand in making this all possible.
We in turn wish to thank Sue for completing this project, and again extend our thanks to James Berg who provided funding for the project in the name of the David Guy Family.