Conclusion of Bang Phai Primary School Food Preparation and Washing Station – Thailand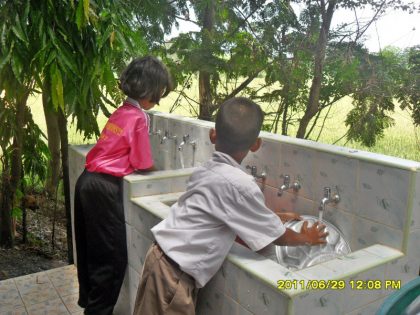 This project has been completed under the direction of Peace Corps Volunteer Sue Akins. To read about the beginning of the project, CLICK HERE.
The project was to build a food preparation area and washing station for the Bang Phai Primary School.
Sue reports:
This is the conclusion of the Bang Phai Primary School Food Preparation and Washing Station – Thailand. I cannot tell you how much this was needed and how appreciative the people of the Bang Phai School are. The cooks now have running water for sanitary food preparation and the children no longer have to carry buckets of water and stand in the mud to wash their dishes.

The project was successful due to the commitment of all members of the community. A meeting was held with the cooks and teachers to determine the appropriate location and design of the new Food Preparation and Washing Station. Once the location and design were finalized the start of the project was discussed and scheduled with the local Tessaban.

The manual work was donated by workers from the Tessaban. It took about five weeks to complete because a new water line had to be installed. This required digging a trench about 40 yards. Once the ditch for the water line was dug, workers began building the forms for the foundation of the station.

Once the foundation was poured and dried, the workers were able to start building the stations. Faucets were then installed and the tile work was begun. Once the tile work was finished and the entire project was given ample time to dry, a celebration was scheduled to coincide with the opening of the next school term.

The work you are doing is greatly admired by all those that I have the opportunity to share with.
We extend our thanks to Sue for completing this project, her third in partnership with Water Charity.
We again wish to thank The Soneva SLOW LIFE Trust for providing the funding for this project.