Conclusion of Ban NaAng School Kitchen Project – Thailand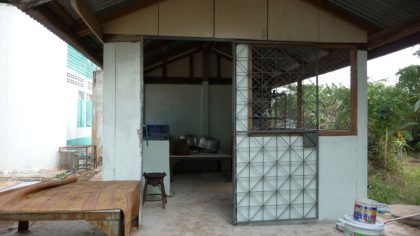 This project was completed on schedule and within budget under the able direction of Janet Rose, Peace Corps Volunteer. To read about the start of the project, CLICK HERE.
Here is Janet's report:
The new kitchen was built by donations from three Americans and Six Senses Spa. Before, the kitchen was a part of the school cafeteria/community meeting place with no real space for cleaning, preparing, and cooking food. There was no counter, no water, and no stove. An existing structure with rusted pipes and broken concrete was renovated to be the new kitchen in the following steps:

The center concrete wall and old pipes were removed.
The roof was raised one meter.
Brick walls were built—one side going to the roof with the other three extending halfway.
Wire grates completed the walls so the room could be locked but still allow for ventilation.
The floor was leveled and concrete poured.
Two septic tanks were installed underground behind the building.
A counter was added along one side for preparing food.
Sinks were built on the opposite side with water pipes coming in and drains going out to
the septic tanks.
Shelves were added for storage of pans, dishes, utensils, and condiments.
A gas tank and burner for cooking was installed next to the counter.

The building was built within five weeks by the school's janitor and community members on the School Board. Wives of community members cooked food for the workers and two of the teachers also were involved with the project. Students helped bring soil to level the floor and haul materials. Even though it was rice harvest season, parents and community members found time to work on the kitchen.

The local people often come to the school for special events and are very pleased with the new building. The kitchen is now a separate area from the meeting place. Cooking does not interfere with what is happening in the main area. The building can be locked and kitchen supplies do not disappear. The kitchen is very functional, clean, and sanitary. Everyone is happy with the results.
Both Janet and Water Charity wish to again express our gratitude to The Soneva SLOW LIFE Trust, and to Janet's friends back home, for making this project possible.