Conclusion of Bafamgoum Well Project – Cameroon
This project has been completed under the direction of Peace Corps Volunteer Allison Adams.
To read about the beginning of the project, CLICK HERE.
The Bafamgoum I Well project received funding on March 5th, 2015. The project involved installing a well and a Type II India Pump adjacent to the local primary school and market area. The pump would then serve as the only potable water source for the village of Bafamgoum I, an area comprised of approximately 2,000 individuals. The work was accomplished via a contract between Le Comite de Concertation de Bafamgoum I and William Kamgang of Water Group Construction.
Here is the conclusion report for Allison Adams:
Shortly after arriving in the village, my first assignment was to complete a Community Needs Assessment. This meant collecting information via survey, door-to-door questionnaires, census data, hospital data, and personal interviews in order to best understand the needs of my community. My Community Needs Assessment led me to local businesses, schools, and farms where I spoke with people of all backgrounds and ages. No matter who or how I was asking the question, one need became the clear priority: water.
My village of Batié is around 10,000 people. It is comprised of 10 smaller villages spread out over several kilometers. Batié has a long and intermittent rainy season and is located in the mountains. Because of geography and climate, water can become scarce. The water table is deep and potable water is hard to come by. Many of the once-functional water sources had fallen into disrepair. This left many people to collect rain water or drink from nearby streams. Water-borne illness and intestinal issues were common and villagers often had to travel several kilometers to access potable water. The time spent getting water meant less time for school, farming, and selling goods.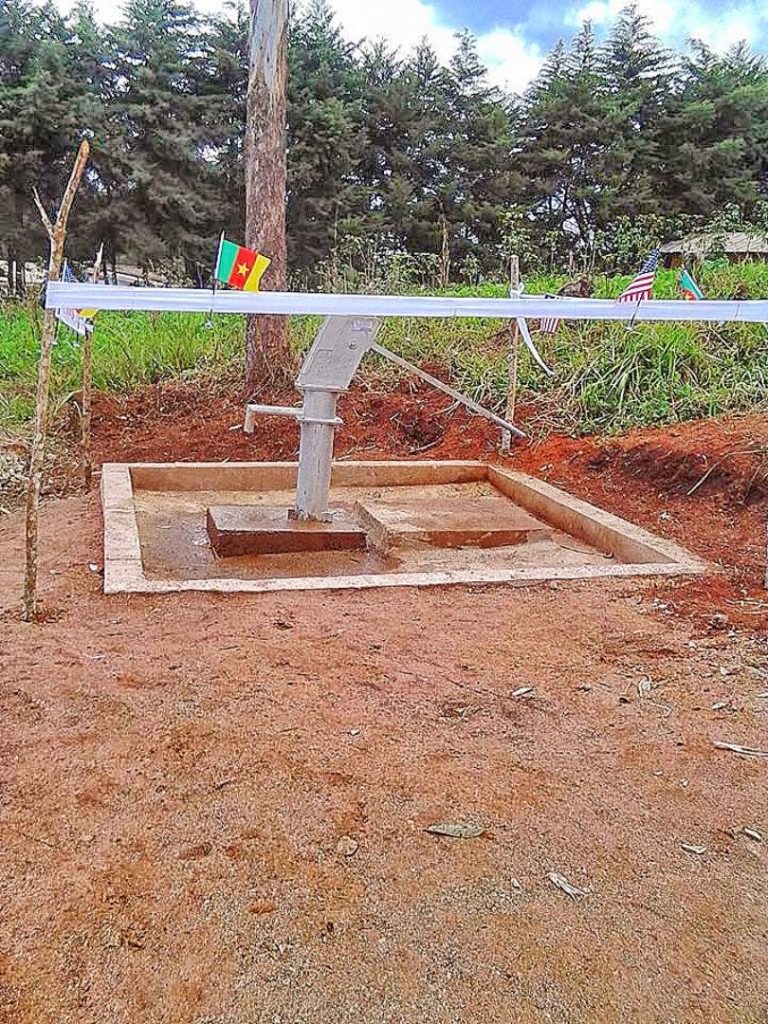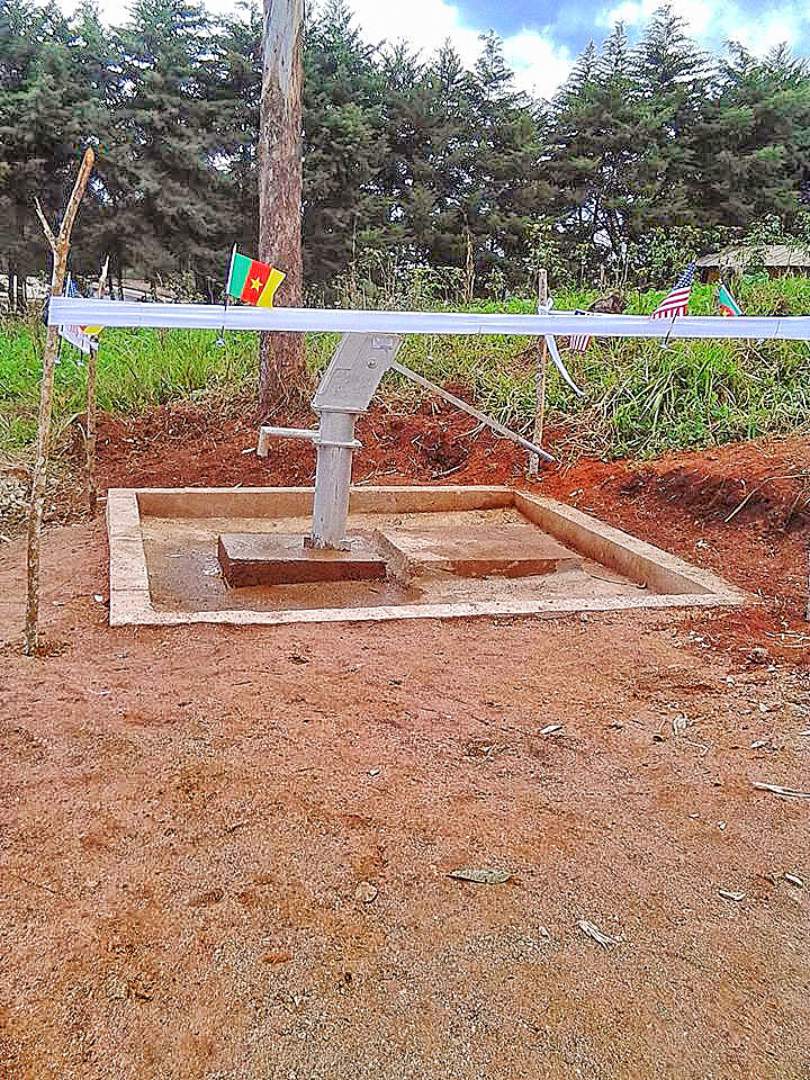 I was lucky to live near a functioning water pump. When I was collecting water I would notice people from the neighboring village of Bafamgoum I (over four kilometers away) collecting water at the same pump. I had several friends in this village, and after speaking with them found that they had no public potable water source. They also happened to have a highly functioning Village Development Association that had succeeded in helping the village secure classrooms, develop roads, and distribute vaccines.
Potable water, however, remained a challenge. I told the Development Association that I was interested in helping them secure a potable water source, and the idea was met with great enthusiasm.
Over the following months, I worked closely with the president of the Development Association (Josias Kamgang). Together, we met with technicians, local government officials, and the village nobility. After some searching, we were able to find a water technician that was located right in Batié. He had done several projects in our region of the West and other surrounding villages. And, because he was devoted to the development of his home village, was willing to do some of the work for free.
Together, Josias, the technician, and I put together a budget and set out to find funding sources. I was very fortunate to submit an application to a US-Based non-profit, Water Charity, for approval. The group front-funded our project, while the community contributed labor, materials, and money.
The work started during the rainy season and was met with various delays, but on October 4th, 2015, Bafamgoum I officially opened its first public potable water source. Opening day was spent talking about water-borne illnesses and their prevention, how to construct village tippy-taps, and the importance of proper hand-washing. The chief of the village burst out, "This is magnificent! I will construct one of these at my house!" as he used a tippy-tap constructed using only a used water bottle and a ballpoint pen. After giving WASH information, a ribbon was cut, each villager came to get their first drink of clean water, and, as per Cameroonian tradition, men and women burst into song and dance.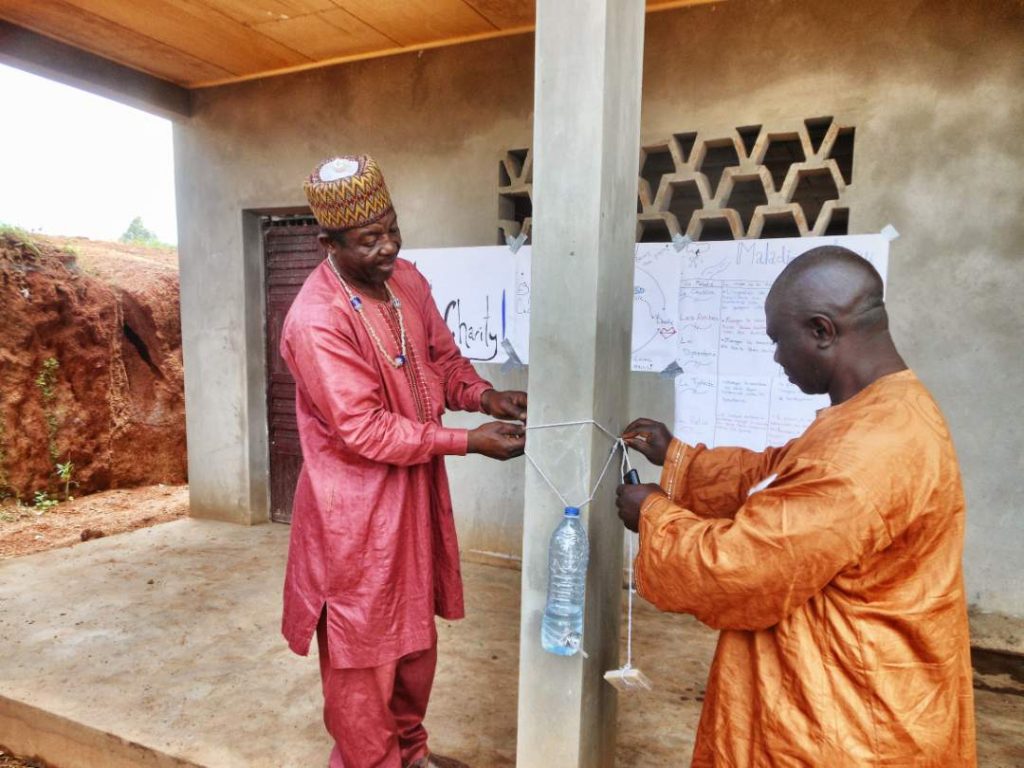 After the official opening, the mayor, the chief of the village and I all said a few words about the management and responsibility of our new water source. We each repeated the same sentiment in different ways: The water pump needed to be used correctly, it could only be opened at certain times, and each community member would need to pay a small fee for each use to help continue with regular maintenance. I was afraid these reminders might be met with disapproval, but to my surprise, each one was instead met with cheers. The people of Bafamgoum I were incredibly grateful to have water, and they were prepared to contribute to the pump's upkeep and respect its use.
While management is always an issue, with the help of PCVs, the Development Association recruited new members to act as a Water Management Committee. Together, we drew up and voted on bylaws on how to manage the forage, when it should be open, who would open it, and how much water should cost. We also spoke about proper bookkeeping and officer positions. With the leadership of these people and the support of the community, I believe that Bafamgoum I will be healthier and more productive with their new water source well into the future. The mayor put it best when he told the community members present on October 4th: "We are grateful to have this new water source. We must keep it for many years. Water is life. We have been given a great gift.
We would like to thank Allison once again for executing such a fine project, and would also like to point to the good work being done in the overall Western Africa Water & Sanitation Program by Peace Corps Volunteers and Returned Peace Corps Volunteers.