Conclusion of Akhaltsikhe Boys' Fitness Center Sanitation Project – Georgia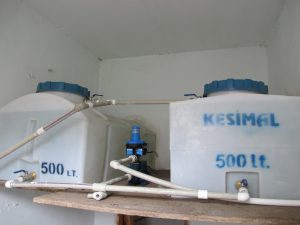 This project has been completed under the direction of Peace Corps Volunteer Sean Fredericks.
To read about the beginning of the project, CLICK HERE.
The project was to renovate the bathroom and shower facilities at the Akhaltsikhe Boys' Fitness Center.
Sean reports:
This project was designed to renovate the shower and toilet facilities at the Akhaltsikhe Boys' Fitness Center in Akhaltsikhe, Georgia. The plan was to use the existing infrastructure of shower stalls and toilets, with the funds from this project paying for piping, connection to the town's main water supply, water tanks, a water pump, a hot water heater and the labor of a worker to install everything.

The project resulted in six functioning showers and two toilets. The fitness center is now open regularly starting at 7 PM every night during the week.

Funds were received in April. Due to both the Catholic and Orthodox Easter holidays, as well as another national holiday, work on the renovation did not start until May. By the end of May, all of the work was done except for unforeseen electrical wiring to operate the pump. At the beginning of June, an electrician was finally brought in to complete the project.

As planned, the two toilets are now functioning. The water tanks that were purchased hold enough water to ensure that all six showers can be operated. However, the hot water heater that was purchased is of limited capacity, which may constrain the use of the facility, especially during the cooler seasons.
We wish to thank Sean for completing this project, and again extend our gratitude to The Soneva SLOW LIFE Trust for providing the funding.