Conclusion of Colombia Lifewater Projects – Estacion Village – Colombia
This project in Estacion Village, Colombia​ has been completed under the direction of Returned Peace Corps Volunteer, Jeremy Mak.
To address water quality, as well as lack of lighting, and malaria in the village, Water Charity gave villagers high-quality water filters, solar lamps, and mosquito nets. We also trained them in the use and upkeep of these items. The effort was led by Gambia RPCV Jeremy Mak, who has successfully completed several water and sanitation projects with Water Charity support over the past 6 years, including Sawyer filter distribution projects in The Gambia (2015), and Uganda (2016). You can see previous examples of his Water Charity projects HERE (Gambia) and HERE (Uganda). This is Jeremy's first project for Water Charity in Colombia.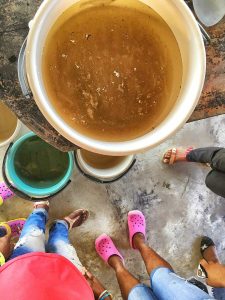 It was originally envisaged that project activities in Estacion Villa would take 3.5 consecutive days to complete, albeit against tight timelines and limited flexibility. One day was marked for village introductions, a second day for water surveys and house-to-house verifications, and the third day of 3 to 4 batch training. A fourth day was scheduled for post-distribution monitoring and follow-up at the household level, but this was later canceled due to a transport constraint.
On the afternoon of December 18, 2016, a five-member team comprised of Jesus, Miriam, and Vicki Romo; local ranchero Diomedes Polo; and RPCV Jeremy Mak visited Estacion Villa and sought permission from the village mayor to do house-to-house registrations.
On December 19th, the team met with the mayor and the village president and vice president to do a physical survey of the community's water tank and open catchment pond. We were able to assess the conditions of the gravity-fed system and visibly observe the quality of the water the village relied on when drinking from their pipes.
Then, 2 teams were formed to visit each home to collect population demographics (names, family size, and ages) and vulnerability markers (e.g. breastfeeding, pregnant, chronic illness) using a detailed questionnaire. We intentionally selected female heads of households or female representatives to be interviewed (and subsequently invited to training). During these visits, team members were further able to access the condition of household water infrastructure and storage, including rainwater harvesting systems. Following the questionnaire, we issued each female with a water and tear-resistant wristband token to serve as her identification for admittance to the following day's training. Each registered house's main doorway was also marked with chalk with a unique identifying serial number.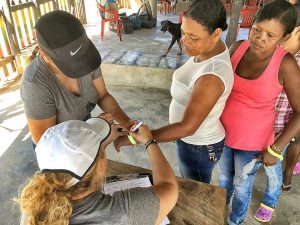 Forty-seven women were grouped into 3 separate pieces of training by color-coded and serial-numbered wristbands that could be crosschecked against the questionnaire for verification. This was designed to both accurately collect beneficiary data and also limited crowds at the training. During these surveys, we did not make it known that they would be receiving any physical goods, as we wanted to emphasize the focus group and sensitization/training element first.
(Utilizing Google Maps, we anticipated around 45 physical structures in the village prior to arriving, but were surprised when we were told that the community had 86 families. Going house-to-house, we were able to count 61 in the village proper. The discrepancy may be that some of the households in the higher number refer to outlying ranches. Seven households in Estacion Villa were empty with no one answering the door, and 7 declined to participate).
December 20th was training day—We held 3 successive pieces of training in Spanish. One at 9 am, another at 1 pm, and the third at 3 pm. Of the 47 invited women, 3 were no-shows, and we were able to mobilize 3 replacement households from surrounding fincas. The training covered both theoretical and practicum components, in a highly interactive participatory setting with a question and answer format. Firstly, participants were given an introduction to Water Charity and an overview of the global waterborne disease crisis. While the women knew that colored water meant sand and sediment was present, most previously never heard of waterborne microbes and the long-term and potentially fatal health impacts of drinking dirty water laden with parasites and bacteria.
Secondly, we demonstrated how the filter operates, using visibly foul water collected from the represa. To further highlight the efficacy of the filters, we poured in additional contaminants and had participants visually compare the before and after the quality of the water. Some participants went as far as to taste both the represa water and the filtered water on their own and noticed a marked difference.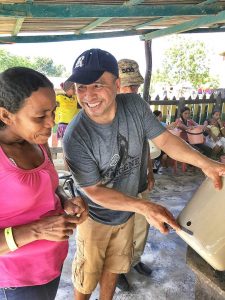 Next, in each session, women were shown how to assemble, install, check for leaks, use, and clean their filters. They all had a hand in helping to drill buckets, attach piping, and operate the filters. Due to the heavy sediment load present in water, we strongly recommended that at home they pre-filter the water through settling and using a thick cloth prior to filter usage in order to limit the need for backwashing. Lastly, in each session, we showed participants 2 ways how to backflush the filters, and 3 additional ways to sanitize and unclog the filters (bleach, hot water soak, vinegar soak). Each woman was provided with instructions, a cleaning syringe and coupling, and a drill bit (in case a new bucket was needed in the future).
Before concluding each session, we also introduced the d.lights we were going to provide, showing participants how to charge and operate them. We impressed upon the women that they were the owners of these lights and that they could use them for reading and around the house however they saw fit, empowering them to be more productive at night.
All recipients were very grateful for the filters, buckets, lights, and water containers, and training, with several leaving teary-eyed. They had never experienced an intervention and training session like this before and were incredibly happy for Water Charity's presence. One woman even remarked that she had just visited the doctor and was strongly advised to stop giving her infant son dirty water to drink.
Participants received filtration kits, buckets, lights, Nalgene containers (courtesy of Nalgene), and training at no cost, with only 2 requirements: 1.) committing to using the filter for drinking and cooking water for their family, and 2.) sharing the filter with those without one.
____
In total, 322 people from 51 households benefited from this project. 44 households in Estacion Villa and 3 from its outskirts were reached (309 people). In addition, we also distributed leftover filters to 3 houses in Fundacion (10 people) and 1 in Barranquilla (3 people). Although all of these last 4 families are located in more urban settings, they still previously boiled water at high cost—up to half of a household's gas expenses.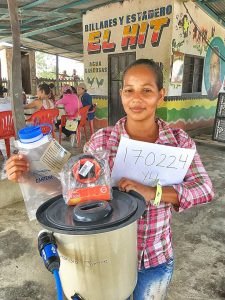 In total, along with 5 training and sensitization workshops, the following items were distributed: 51 filters and 58 buckets, 50 d. light S2 solar lamps, 56 Nalgene containers, and 6 long-lasting insecticidal nets. (Two additional buckets were accidentally broken during the training when drilling connection holes).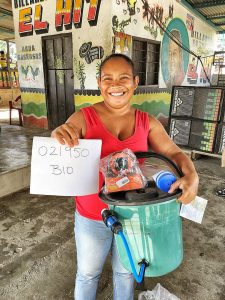 Using information captured during the household survey, 5 of the registered households were identified as having children under the age of 1. Another household had a child with a severe disability. These 6 households received long-lasting insecticidal Olyset mosquito nets (courtesy of Sumitomo).
In the future, there is definitely scope and opportunity for additional interventions to further improve the water situation in Estacion Villa, such as central mixed media filtration, rainwater harvesting training, household water storage expansion, and surface/groundwater recharging. This project has greatly piqued the community's interest in development, and they have indicated their willingness to cooperate and contribute however they can should additional projects come their way.
Another result of the project is 4 additional persons—all Spanish speakers—trained as trainers in household registrations and Sawyer filter distributions.
Thanks again to Water Charity for helping to provide a preferential clean water option for the community of Estacion Villa, Colombia and also helping to shine a (solar) light in dark places just in time for the holidays!
To read about the beginning of the project, CLICK HERE.
We again extend our thanks to the Paul Bechtner Foundation for providing the funding for the project.
We would like to thank Jeremy Mak once again for executing such a fine project.